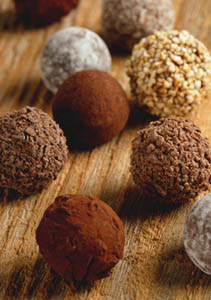 Vegan Chocolate Snack Recipes: A big aloha to all you readers out there! I hope you've enjoyed my continuing series on cooking with our versatile vegan chocolate. To round out the series, today I'll be looking at a scrumptious array of vegan chocolate snack recipes. If you find your sweet tooth gnawing in those hours between meals, you'll find a lot to inspire you in this gallery of wholesome yet decadent vegan chocolate snacks. Make a batch (or several) on the weekend and enjoy these hunger-sating delicacies throughout the week!
Cosmic Vegan Chocolate Peppermint Patties: This is a raw, vegan and gluten-free recipe for classic peppermint patties that are truly out of this world. You can substitute vegan chocolate chips for the last four ingredients in the recipe, making it even quicker to prepare. Simply chill these patties in the freezer for a minty-cool, chocolatey treat!
Ingredients: 2 teaspoons water
2 tablespoons coconut butter or cashew butter
1/8 teaspoon peppermint extract (adjust up or down as desired)
1½ teaspoons agave or maple syrup, or stevia drops to taste
2 tablespoons unrefined coconut oil
¼ cup cocoa powder
2 teaspoons water
2 tablespoons agave or maple syrup
(The last four ingredients are meant to create a raw version of melted chocolate, so if you wish you can substitute melted chocolate chips to make a non-raw version of this recipe.)
Preparation: Combine the first two teaspoons of water, peppermint extract, 1½ teaspoons agave or maple syrup, coconut oil, and coconut butter into a bowl. Combine the last four ingredients or melted chocolate chips in a separate bowl. Pour and spread half the melted chocolate mixture into a candy mold or cupcake liner, and portion the mint filling on top. Cover with the remaining chocolate and freeze until the patties have firmed up, about 4 hours.
Vegan Chocolate Granola Balls: This super-easy vegan chocolate snack recipe requires only two ingredients and a few minutes to prepare, and delivers a healthy serving of fiber, whole grains, and antioxidant-rich dark chocolate. So delicious and easy, you may find yourself making it all the time!
Ingredients: 1 1/3 cup vegan chocolate chips
2 cups vegan granola–choose your favorite! Hemp seed, pumpkin, and vanilla varieties all work well.
Also, the ratio of granola to chocolate chips is 1 cup of granola per 2/3 cup of chocolate chips, in case you want to adjust the yield of this recipe up or down.
Preparation: Line a baking tray or large, flat dish with wax paper. Melt the chocolate chips in a double boiler over low heat, stirring constantly. For those of you without a double boiler, place a small saucepan within a slightly larger saucepan full of about 1 cup of simmering but not boiling water. Remove the melted chocolate from the heat and carefully stir in granola. Use a spoon to drop the mixture onto the waxed paper in clusters, estimating about 1 tablespoon per cluster. Let cool before serving.
Raw Vegan Chocolate Truffles: All the decadence of the classic dark chocolate truffle can be yours in this recipe, without the refined sugars or animal fats. All you need is a blender or food processor and a freezer! These deceptively indulgent little truffles are also packed with a healthy dose of fruit, nuts, fiber and whole grains, so you can enjoy them and nourish your body at the same time.
Ingredients: 1 ripe banana
1 tablespoon raisins
1 tablespoon black sesame powder
¼ cup mixed walnuts and pecans
2 tablespoons chopped almonds
½ tablespoon cinnamon
1/3 cup instant oatmeal
2 tablespoons blueberries
1 tablespoon dark cocoa powder
¼ teaspoon buckwheat flour or groats (Despite the name, buckwheat is not actually related to wheat, and buckwheat flour does not contain gluten.)
Add Later: ¼ cup oatmeal
1 tablespoon raisins
2 tablespoons almond meal or chopped almonds
Shredded coconut (for sprinkles)
Preparation: Combine all ingredients except those in the Add Later section in a blender or food processor and blend until mostly smooth. Spoon out into a bowl and add the almond meal, raisins and oatmeal. Stir together, form the mixture into balls with a spoon or by hand, and garnish with the shredded coconut if you wish. Place the truffles on a dehydrator tray or in the freezer in a sealed container, let them firm up for a few hours, and enjoy!
Vegan Nutella Freezer Fudge: Nothing quite comes close to the taste of Nutella, the European chocolate-hazelnut spread that can be used as a condiment or eaten by itself–until now! This easy freezer fudge replicates the nutty, chocolately taste of real Nutella without any gluten or dairy ingredients. Two to three bite-size pieces of this smooth, satisfying and yes, even healthy fudge make a wonderful snack.
Ingredients: ½ cup natural hazelnut butter or hazelnut/almond butter
½ cup coconut oil (room temperature)
½ cup cocoa powder or raw cacao powder
½ cup pure pumpkin purée (look for this in the baking section next to pumpkin pie filling)
¼ cup agave syrup (adjust upward for a sweeter fudge if desired).
Preparation: Spray or grease an 8″x 8″ brownie pan with oil. Place all the ingredients in a food processor and blend until buttery (you may have to do this in a few batches). Place the fudge batter into the baking pan and spread it into one even layer. Cover with saran wrap and freeze for about 3 to 4 hours, then slice your fudge into 18 to 20 bite-size pieces.
Well, this concludes our mini-series on cooking and baking with vegan chocolate. Of course, the possibilities for using vegan chocolate in recipes both sweet and savory is almost limitless: I would love to hear about uses you've found for our dark vegan chocolate, as well as your recipes and experiences in the wide world of vegan, raw, and alternative cuisine!
Aloha no,
Makaira