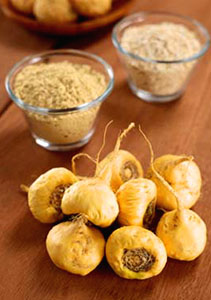 Aloha, dear readers, and I hope this article finds you brimming with energy to face everything the summer will bring! Of course, even as the days get longer and warmer, I know not all of us feel as vigorous as we'd like; the stress of managing our daily affairs and busy schedules can leave even the most enthusiastic people in need of a pick-me-up! That's why I thought it might be time for a change of pace. If you've read this blog for any length of time, you already know that kava kava has many wonderful benefits for reducing that daily stress load and helping one to unwind… but what about those times when you want more energy, to leap into your day no holds barred?
Enter the humble maca root: unlike artificial stimulants and energy drinks that can be loaded with sugar and who knows what sorts of preservatives, our maca root is totally organic and chock full of nutrients that can give you natural, sustained energy, all without the burnout associated with caffeinated beverages! Sometimes called Peruvian ginseng for its similar adaptogenic effects on the human body, maca (Lepidium mayenii) is a South American root vegetable in the radish family Cruciferae. In the area where it grows around Lake Junin in Peru, maca root has traditionally been consumed to improve energy, stamina, and sexual function, and an interesting recent study actually does corroborate maca's potential as an aphrodisiac [1]!
Maca is a true superfood in the nutritional sense: it contains high levels of vitamins C, E, and the B complex; essential minerals such as selenium, calcium, phosphorous, zinc, iron, and magnesium; amino acids; and enzymes known as glucosinolates [2]. All of these can contribute to sustained energy by fulfilling your body's nutritional needs!
Raw vs. Gelatinized Maca Root: There's a lot of buzz today around the "raw food" diet; its many advocates claim that eating raw delivers vital nutrients that are broken down by cooking. Maca is no exception to this craze, and indeed it actually may be easier to get raw maca powder than heat-treated, or gelatinized, maca powder. However, both forms actually have their benefits, so you might want to research them to make a purchase that fits your needs:
Gelatinized maca root has undergone a treatment that combines heat and pressure to remove most or all of the starch from the root [3]. This results in a more nutrient-dense product since the finished powder now has a greater concentration of compounds relative to starches. It may also be easier to digest for people who have trouble digesting starches or sugars. However, the glucosinolates in maca root may be destroyed or depleted by this process. In contrast, since it hasn't been exposed to heat, raw maca root retains the full spectrum of compounds, including glucosinolates. It also contains more starches or sugars, which may be helpful if, for example, you want to use maca as a supplement in a body-building routine. Some people recommend buying both gelatinized and raw maca powder and alternating them for maximum benefit!
I find maca powder easy to work with and extremely versatile in both sweet and savory recipes. Below are a few selections of easy and delicious recipes with maca root powder, which you can buy over at Kona Kava Farm in both its ultra pure raw form, and as a yummy maca "krispy" extract that has the texture of Rice Krispies. Try both in recipes to find your favorite!
Basic Maca Smoothie:
Ingredients: 1 ½ cups almond or coconut milk
1 tablespoon maca root powder
1 banana
1 tablespoon honey
ice as needed
Preparation: Combine all ingredients in a blender and blend until creamy, then enjoy! What I really like about this recipe is its versatility; there really are endless variations on this very simple list of ingredients. Try adding chocolate or cocoa powder, cinnamon, vanilla bean, nut butters, and more!
Raw Coconut Maca Fudge:
Ingredients: 1 cup organic coconut oil (at room temperature, or about 76 degrees Fahrenheit)
3 tablespoons raw cacao powder
¼ cup maple or agave syrup
1 teaspoon vanilla extract/1 vanilla bean
1 teaspoon maca powder
¼ cup unsweetened shredded coconut
pinch sea salt and extra cacao powder to sprinkle on top (optional)
Preparation: Mix your coconut oil, maca, vanilla, maple or agave syrup, cacao powder, and shredded coconut together in a bowl. Line a glass container or baking dish with parchment paper, then pour in your mixture and spread into a single even layer. Sprinkle with sea salt and cacao powder is desired. Refrigerate for about 1 hour, or until solid; slice and serve. Use within 5 days (not that I imagine it will last that long!).
Maca Hummus:
Ingredients: 1 can chickpeas, liquid reserved
¼ cup liquid from can
5 tablespoons lemon juice
2 tablespoons tahini
2 teaspoons maca powder
2 garlic cloves, crushed
pinch salt
2 tablespoons olive oil (optional)
Preparation: Combine everything except for the olive oil in a food processor and blend on low 3-5 minutes until you achieve a smooth consistency. Place in a serving dish of your choice. If you want, make a well in the center of the hummus and add 2 tablespoons olive oil. Serve this scrumptious and healthy hummus with breadsticks, veggie sticks or pita chips.
Aloha no,
Makaira
REFERENCES
1. Gonzales, GF, A Cordova, C Gonzales et al. 2002. "Lepidium mayenii (Maca) improved semen parameters in adult men". Asian Journal of Andrology 3: 301-303.
2. Braun, Rachel. "7 Top Health Benefits of Maca Powder". VegKitchen with Nava Atlas. Accessed June 4th, 2014. http://www.vegkitchen.com/nutrition/7-top-health-benefits-of-maca/.
3. Monarch, Matt. "Gelatinized Versus Raw Maca". The Raw Food World. Accessed June 3rd, 2014. http://www.therawfoodworld.com/blog/gelatinized-maca-vs-raw-maca/.