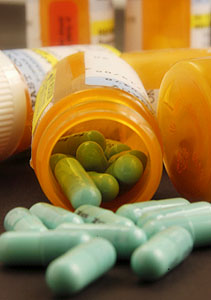 Aloha, friends!
It seems as though we get this question often and although we mention it in the Kona Kava Farm FAQ, we thought it would be a good idea to talk about here as well. Here are a few different versions of the same question, all basically asking the same thing:
"I am on a prescription medication to treat my anxiety. I've read that kava is a natural way to treat anxiety and I was wondering if it would be safe for me to continue taking my prescription as well as drink kava."
"I've recently stopped taking my prescription and am interested to know when it is safe for me to start taking kava. Could you give me some advice?"
"Makaira, help! I take an over-the-counter allergy medicine every day and I need to know if taking kava along with the medicine will give me any bad side effects."
If you've ever sent us an email or given us a call, you know how much we love helping customers and how much we love talking about kava. And can you blame us? Kava is our lives! But we have to draw the line when it comes to medical advice. You see, although kava is perfectly safe for consumption, we here at Kona Kava Farm are farmers; not doctors!  We don't know anything about prescription drugs, the mixing of drugs with kava, or any side effects you might encounter if you do mix drugs with kava.
If you feel you need to include "I know this is a loaded question", or "I know you probably can't answer", or "I know you're not supposed to talk about Kava and prescription medication" or "Please don't tell me to go to my doctor to get advice", or anything along those lines in your email, it's likely an inappropriate email to send us.  Believe me; we want to help.  We wish we could say anything we wanted in relation to what an amazing supplement, medicine, and cure for all that ails you that we know kava kava to be, but we, by law, are very restricted on what we can offer you.
I know it's far less enticing to try to get an answer on Yahoo Answers or some random forum, but that's the best we can offer you when it comes to anything that comes anywhere near the realm of offering medical advice regarding our Kava.
WHAT WE CANNOT HELP YOU WITH:
We cannot discuss drug interactions, period.
We cannot speak about Kava helping with any diseases
We cannot discuss replacing a prescription medication with Kava
We cannot discuss if Kava can be taken during pregnancy
We do not discuss the best way to get "high" from Kava
We cannot discuss whether Kava
This is a very, very abbreviated list.  All we ask from our customers is to think about our legal obligations, and then to not put us in uncomfortable positions regarding how we need to legally respond to you.  Anyone dispensing medical advice in relation to Kava, unless they have a medical license, is doing it illegally.
We can say that historically, kava has been used for thousands of years in the Pacific Islands to help relieve stress, curb anxiety, and ease tension. And of course, it is in our culture that kava be used ceremoniously. We have been using it safely for all those years, before the advent of medical pharmaceuticals. Over the past few decades, with the rise of pharmaceuticals, new medicines have popped up to help cure people's ailments. We can't recommend anything about these medicines because, plain and simple, we just don't know anything about them.
We know kava, we know how it affects us personally (all people experience things differently, just like with coffee and alcohol), and we know it is safe by itself. If you have any questions about how kava might react with your prescription medication, or any medication, the very best person to talk to is the one who prescribed that medicine to you; your doctor!
In other words; our products are not intended to diagnose, treat, or cure any disease and none of us here at the farm (or at our distribution center) are qualified to give any answers related to the effects kava might have with any medication, prescribed or otherwise, even if asked for "hypothetical" situations or any variation of that. We do not and cannot endorse or recommend anything pertaining to kava or our other products being mixed or supplemented with any other ingestible product, such as a prescription medicine, other herbs, or any food products whatsoever. The only person qualified to answer questions having to do with prescribed medication or health-related issues is your doctor.
I hope this clears some things up. We love hearing people's passions about kava, and we love the trust our loyal customers have in our products, but all medical and health-related issues should be left up to the professionals!
Aloha no!
Makaira