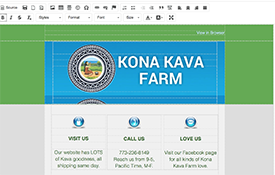 This isn't exactly Kava News, but we wanted to let you know that Kona Kava Farm is working hard to become fully mobile-friendly. We know our website has looked outdated for quite some time, but so many customers tell us that they like how simple and secure the website is, so we've kept it as it is. We don't have logins, and we try to keep the entire ordering process as clean and as simple as possible.
And, our entire Kava Catalog is available on the very responsive, mobile-friendly website over at the Kava Marketplace on Kava.com, so if you want Account Logins, Wish Lists, One-Click Reorder and others, we both have the same fulfillment center, so you will be just as expertly taken care of as if you were ordering directly on our Kona Kava Farm website.
Subscribe To Our Newsletter
Join our mailing list to receive the latest news and updates from our team.
Anyway, with the last newsletter we sent out, it turns out that 54% of you opened the newsletters on a mobile device!  That's an amazing statistic, and one that threw us for a bit of a loop!  We knew our customers were smart, savvy people, but we didn't realize what a bunch of computer whizzes we had buying and enjoying Kava products.
So, the website itself is lagging behind as of this posting, partly because of how much data we have on our website. 20 years of external links would be lost, even if we do our "301 redirects" correctly, so it's a very slow process of conversion for us. We don't want to lose all of our rankings and 20 years of working hard to ensure we stay at the top of Google, but we have no choice but to get dragged into the 21st Century quietly kicking and screaming.
The good news is that our blog and the newsletters have already received their makeover. This post was synced with our new newsletter format and schedule, so if you're reading this post, then our new responsive Kona Kava Farm Newsletter is doing the trick!