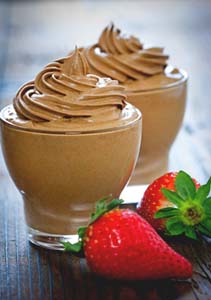 Gooey brownies; creamy mousse; sumptuous layer cake; if there's any meal better than dessert, I can't think of it! One of the challenges when going vegan and/or gluten-free–as I know many vegans are both–is finding dessert recipes that pack all the decadence of the originals without the flour, eggs, milk or butter. Luckily, nature has provided plenty of alternative foods that, with the right processing, have a taste and texture just as good as the regular kind and have the added benefit of being better for you as well.
The world of vegan chocolate dessert recipes is vast and ever-changing, so consider the list below a selection of the recipes that most intrigued me, or shed new light on the endless potential of vegan chocolate in cakes, brownies, mousse, and more.
Raw Almond Pulp Vegan Chocolate Brownie: This raw vegan brownie has a rich texture closer to fudge and is made using almond pulp as a base. Those of you who make almond milk or other nut milks at home will know that the process creates nut pulp as a byproduct. You do need to start with leftover almond pulp for this recipe to work, but luckily it's easy to make nut milk at home: you just need a blender, nutmilk bag or cheesecloth, and raw nuts. The recipe below is vegan, raw, and gluten free.
Ingredients: 1 cup almond pulp
1 cup cashews
2 cups dates, pitted
2/3 cup raw cacao powder
½ cup dried coconut flakes
¼ cup agave nectar
½ teaspoon salt
Preparation: In a food processor, grind the cashews until very fine. Add the dates to the cashew flour and process until well chopped and the mixture begins to stick together. Add the almond pulp, coconut, agave nectar, salt, and cacao powder and process until well combined but not totally smooth; there should still be some air and texture left in the mix. Transfer your raw "batter" into a brownie dish or other small container and press down into a single layer. Freeze for at least two hours to let the mixture firm up. To maintain their texture and firmness, these brownies must be kept in the freezer. Luckily, they can be sliced and eaten right from the freezer–fork and plate optional!
Raw Vegan Chocolate Mousse: The classic chocolate mousse calls for lots of egg to create its fluffy, whipped texture, and recreating it in vegan form is no easy task. The creamy, rich texture of avocado comes to the rescue in this versatile chocolate mousse recipe, which can be easily converted to chocolate frosting or chocolate sauce by adjusting the amount of water, or frozen to create vegan chocolate ice cream.
Ingredients: ¼ cup pitted medjool dates, soaked in water
¼ cup agave syrup (although it isn't raw, you can substitute maple syrup if you wish)
½ teaspoon vanilla extract (optional)
¾ cup mashed avocados (For this recipe, I would recommend the green-skinned Fuerte or Zutano avocado varieties, both of which are milder in flavor than the black Hass avocado.)
¼ cup and 2 tablespoons unsweetened cocoa powder
¼ cup water
Preparation: Place the dates, agave syrup, and vanilla extract in a food processor and blend until smooth. Add the avocado and cocoa powder and process until creamy, pausing to scrape down the sides of the bowl with a rubber spatula. Add the water and process briefly. Serve chilled or at room temperature. Makes 1 cup, or about 2 moderate servings. Refrigerated in a sealed container, this vegan chocolate mousse will last about three days. As I mentioned above, you can convert this recipe to chocolate buttercream frosting simply by omitting the water. Make your chocolate mousse into chocolate sauce by adding an extra ½ cup of water, or make a double batch by adding 1 cup of water. To make vegan chocolate ice cream, freeze the mixture for at least 4 hours. Allow it to defrost for 15 minutes prior to serving.
Black Bean Vegan Chocolate Brownies: Who doesn't love brownies? The rich chocolate, moist texture and possibilities for variation make brownies a perennial favorite, and the vegan variety are no exception. Of all the vegan and gluten-free brownie recipes I found on the internet–and there are plenty, believe me!–this vegan recipe using black beans instead of flour piqued my curiosity so much I ran out for the ingredients and made it that night. I can attest that the results are decadent, chewy, and oh-so-chocolately–a perfect recipe if you ever need to use up our vegan chocolate chips.
Ingredients: (1) 15-ounce can (1 ½ cups) black beans, well drained and patted dry
2 tablespoons cocoa powder, regular or Dutched (you can add a bit more cocoa powder if you prefer)
½ cup quick oats
¼ teaspoon salt
1/3 cup maple, agave, or brown rice syrup
2 tablespoons sugar (or increase the syrup to ½ cup)
¼ cup coconut or vegetable oil
2 tablespoons vanilla extract
½ teaspoon baking powder
½ cup to 2/3 cup chocolate chips, such as our Vegan Chocolate Chips or Vegan Chocolate "Sun" Chips
Preparation: Grease an 8×8″ brownie pan and preheat your oven to 350 degrees Fahrenheit. Combine all ingredients except the chocolate chips in a food processor and blend until totally smooth. You may have to process the batter in batches to make it easier to blend. Stir in the chips, then pour the batter into the greased pan and add more chocolate chips on top if you wish. Bake the brownies for 15 to 18 minutes, and let them cool for at least 10 minutes before slicing, as they will continue to firm up as they cool. Makes 9 to 12 brownies, depending on how generously you slice them.
Raw Vegan Chocolate Cake: The avocado returns in this raw chocolate layer cake with avocado-based chocolate frosting and optional coconut sprinkles! Since this recipe is a bit more involved, I've placed it last; you will need two springform pans (used for making cheescake) and a dehydrator, a device that removes the moisture from food while preserving the proteins and enzymes. This recipe may work if the cakes are baked instead, but keep in mind you will be experimenting at your own risk. Still with me? Then read on!
Ingredients:
Cake Base: ½ cup walnuts, dry
½ cup agave nectar
1 small apple, peeled, cored and blended
¼ cup brewed coffee or coffee substitute
1 teaspoon vanilla extract
½ teaspoon lemon juice
1/8 teaspoon salt
½ cup cacao powder
¾ cup coconut flour
Chocolate Frosting: 2 large avocados (300 g); I recommend the mild Zutano or Fuerte variety
½ cup agave nectar
1 teaspoon vanilla extract
1 teaspoon lemon juice
1/8 teaspoon salt
½ cup cacao powder
¼ cup coconut shavings for sprinkles (optional)
Preparation: For the cake base, pulse the walnuts in a food processor until finely ground; remove from processor and set aside in a small mixing bowl. In the processor, combine the agave nectar, apple, vanilla extract, coffee, lemon juice and salt. Blend until well combined. Add back the walnut flour to the processor bowl and blend until smooth. Add the coconut flour and pulse until the mixture becomes thick and dough-like.
Divide the batter in half and press into (2) 15-centimeter springform pans. Place the two cakes on a dehydrator tray and remove the pans. Dehydrate cakes for about two hours until their surfaces are firm and dry.
For the chocolate frosting, scoop the flesh from the avocados, then place the avocado pulp, vanilla extract, agave syrup, lemon juice, salt, and cacao powder in a food processor or blender and blend until smooth.
When the cakes are firm, place one on a plate and frost it over with the chocolate frosting. Then place the second cake on top and cover the whole stack with frosting. Sprinkle the coconut shavings overtop for decoration. You can also refrigerate this cake overnight to let it firm up even more, or serve at room temperature. The leftovers can be stored covered in the fridge for up to four days–if they last that long!
Aloha no,
Makaira