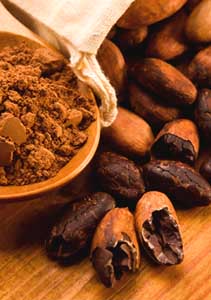 Aloha, everyone! Today I'm cooking up some savory vegan chocolate recipes with our premium vegan chocolate products from Cocoa Cravings. Most people associate chocolate with sweets and baked goods, but cocoa powder itself isn't sweet, and dark chocolate has a bitter edge that can provide the perfect bite to round out a savory roast, rich sauce, or piney vinaigrette. If you missed my first two posts in this series–Vegan Hot Chocolate Recipes and Vegan Chocolate Smoothie Recipes–feel free to explore those as well. Now, on to culinary adventure!
White Chocolate Baba Ganoujj: Nothing like plunging in feet first, is there? I was as skeptical as anyone when I came across this recipe for the classic Mediterranean eggplant dip, reinvented with melted white chocolate. As it turns out, the creamy white chocolate perfectly balances the smoky eggplant, garlic, and tahini, making for a truly conversation-worthy appetizer!
Ingredients: 8 cloves garlic, unpeeled
4 medium eggplants, sliced in half lengthwise
1/3 cup fresh lemon juice
2/3 cup tahini
4 ounces white chocolate, melted and cooled (Cocoa Cravings Ultimate White Chocolate Chunks spring to mind)
2 tablespoons fresh parsley
1 ½ teaspoons ground cumin
1 ½ teaspoons paprika
salt and fresh ground black pepper to taste
pomegranate seeds for garnish (optional)
toasted pita bread for dipping
Preparation: Set the broiler on your oven to HIGH and place the garlic cloves and egglant (skin side up) onto a foil-lined baking sheet. Broil the garlic and eggplant until charred and soft (about 20 minutes for garlic, and 40 minutes for eggplant). Peel the garlic, and de-seed and scoop the flesh from the eggplant. Place your garlic and eggplant in a food processor and add the tahini, lemon juice, 1 tablespoon of the parsley, white chocolate, cumin, paprika, salt, and pepper. Purée until smooth, then transfer your baba ganoujj to a serving dish and garnish with the remaining parsley and pomegranate seeds. Serve with toasted pita triangles on the side.
Spinach-Pear Salad with Chocolate Vinaigrette: Of course, even in a savory dish you may still want something a little sweet! This is especially true in light appetizers and salad courses that precede the main meal, so when I found this airy salad recipe combining crisp pears and cranberries with chocolate, I simply had to include it. The tart cranberries and pungent balsamic vinegar are perfectly balanced by the sweetness of the chocolate and pear. Try it as a light lunch or a refreshing side salad.
Ingredients: 1 ounce of milk or dark chocolate, chopped
3 tablespoons balsamic vinegar
3 tablespoons canola oil
1 teaspoon honey
¼ teaspoon salt
1/8 teaspoon pepper
6 ounces fresh baby spinach
1 large pear, sliced
3 tablespoons cranberries
2 tablespoons sliced almonds, roasted
Preparation: Melt the chocolate in a microwave until smooth, then whisk in the oil, balsamic vinegar, honey, salt and pepper. Set aside. Divide the spinach onto four salad plates, then top with the sliced pear, cranberries and almond slivers. Drizzle the chocolate vinaigrette overtop.
Vegan Chocolate Seitan Pie: Seitan (pronounced SITE-an) is a kind of vegan meat substitute made from wheat that has had the starch removed, leaving only the gluten. Somewhat chewy and surprisingly meat-like in texture, seitan is an excellent flavor absorber that can be used as the base for many savory vegan casseroles and pies such as the one below, a type of sherperd's pie subtly spiced with unsweetened chocolate, tamari and curry spices.
Ingredients: 2 tablespoons olive oil, divided
12 ounces seitan, diced
1 yellow onion, chopped
1 carrot, minced or grated
1 tablespoon curry powder
1 ounce unsweetened baking chocolate, grated
2 tablespoons molasses or maple syrup
¼ cup tomato sauce
1 tablespoon tamari
1 cup apple juice
½ cup frozen peas
3 large Yukon gold potatoes, peeled and diced
½ cup soymilk
2 tablespoons margarine, divided
Salt and pepper to taste
Preparation: Lightly oil a deep-dish pie plate or casserole dish and set it aside. In a medium skillet, add 1 tablespoon of the olive oil and cook the seitan over medium heat until browned. Remove seitan from the skillet and set aside. Add 1 more tablespoon of olive oil, onion, and carrot to the skillet and cook, covered, until soft (about 7 minutes). Stir in the curry powder, chocolate, tamari, tomato sauce, molasses and apple juice. Bring the mixture to a boil, then reduce heat to medium. Return the seitan to the skillet along with salt and pepper, and simmer for 15 minutes. Add the peas, then spoon the mixture into your baking dish in an even layer and set aside.
Preheat your oven to 350 degrees. Cook the potatoes in boiling salted water until soft (about 20 minutes), drain, then return potatoes to the pot. Add the soy milk and margarine and mash the potatoes until creamy. Salt to taste. In the baking dish, spread the mashed potatoes evenly on top of the filling mixture and dot with remaining margarine. Bake until hot (about 30 minutes).
Mexican Chocolate Molé: This piquant, savory sauce is the original vegan chocolate recipe! Combining chili and chocolate in a now-classic fusion, chocolate molé pairs well with meats, root vegetables, cheese, and almost any Mexican dish I can think of. For you non-vegans out there, it's especially good atop chicken enchiladas: the rich sauce insulates the meat as it bakes, preserving its moistness and imbuing the dish with warming flavors.
Ingredients: There are endless ways to make molé, and the recipe below is simply a quick and easy one to get started with. All molé sauces involve a base of chocolate, chili peppers, and the spices represented here, and you can explore the internet for more adventurous variations if you wish.
2 tablespoons vegetable oil
¼ cup finely chopped onion
1 tablespoon unsweetened cocoa powder
1 teaspoon ground cumin
1 teaspoon dried cilantro (you can also substitute 1 tablespoon fresh cilantro)
1/8 teaspoon dried minced garlic (though I recommend substituting 2 cloves of fresh garlic)
(1) 10.75 ounce can condensed tomato soup
(1) 4-ounce can diced green chili peppers
Preparation: Heat the oil in a medium saucepan over medium heat. Cook onion until tender, then mix in cocoa powder, cilantro, garlic and cumin. Stir in the tomato soup and green chili peppers and bring to a boil. Reduce heat to low and simmer for 10 minutes. Serve from the pot or transfer to a gravy boat and pour your molé over chili, enchiladas, chicken or beef dishes, and more!
As always, if any of you have savory vegan chocolate recipes to swap, I'd love to hear from you. Next time, I'll be exploring the dessert course with classic sweet recipes using our ultra-rich vegan dark chocolate. Until then,
Aloha no,
Makaira