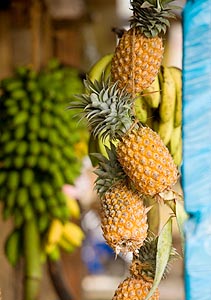 Aloha!
A few months ago I posted about a kava themed dinner party that I attended! We were treated to amazing delicacies such as kava-seared tuna and kava ice cream. So far, I haven't been able to persuade my friend to give me those particular recipes to post up here for you all, but that dinner made me think that it might be nice to share some of my personal favorite kava recipes, as well as some of the great kava drink recipes we have up on our website!
Since it is so hard to obtain fresh kava root outside of the areas where the plant grows, I won't post any recipes that use fresh root, although I have to say that the dishes I've been treated to that use fresh kava root are pretty amazing! Who would think that such a powerful, healing plant could also be such a culinary delicacy? Nevertheless, there are still plenty of amazing things you can do in your kitchen with kava paste or powder.
Our website has a really great variety of kava kava recipes, many of which have been submitted by our customers!! My personal favorite is the kava colada, which I found the recipe for in the book "Psyche Delicacies", by Chris Kilham (a great resource for information regarding kava, coffee, chocolate, and other such delicacies, by the way!) The recipe uses coconut milk to absorb the kavalactones, and that,mixed with pineapple juice and a little bit of sweetener, makes for a really decadent drink to enjoy at the end of a long day of work or as "cocktails" before a dinner party!
You can find plenty of other recipes for kava drinks on our website. There is even a kava kava recipe for pizza sauce, submitted by one of our customers, which is really delicious! The spicy flavor of the kava makes for a tangy sauce that will definitely compliment your home-made pizza!
Finally, I want to share a recipe from Vegan Fusion for kava brownies! When I first found this recipe I was completely surprised, because I'd never really thought of putting kava in brownies! But this recipe is phenomenal, especially with a layer of coconut on top, and I feel like it really lets you enjoy the decadent side of my beloved kava! Here is the link to this amazing kava brownie recipe!
Of course, if I'm honest, my favorite way to consume kava is still the traditional way – I love the spicy, earthy flavor of kava kava, and drinking the traditional tea brings back so many memories of time spent relaxing with friends and family! Nevertheless, I'm really excited that people are recognizing the culinary potential of kava, and are using it in many different ways!
If you have any unique or delicious recipes for preparing kava that you haven't seen here, I would love to hear about and add it to our website! (With your permission, of course). Please post any kava recipes in a comment here! I can't wait to see what delicious ideas all of you have come up with for enjoying kava!
Aloha no,
Makaira