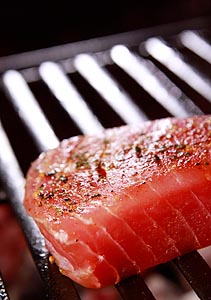 Aloha!
I recently went to a friend's dinner party that had an all-kava theme. As you can imagine, it was an amazing evening filled with relaxed conversation, good company, laughter; and kava, of course!
For most people, using kava for anything other than drinking is unimaginable. My friend who hosted the party is a chef who recently traveled the Pacific Islands, trying out local specialties made with kava and then came home to Hawaii and recreated some of the kava-based dishes she had sampled in her travels. They were an amazing treat!
Kava-seared tuna and kava ice cream – can you imagine?! Apparently this is a new trend, as many chefs are using traditional ingredients such as kava and turning them into new flavorful creations of amazing originality and intense flavor.
My friend told me that she was very inspired by executive sous chef Ajay Zalte of Salt Restaurant at the Sofitel Resort & Spa on a recent trip to Fiji. She pointed out an article in the Fiji Times that contained an interview with Zalte, in which he laughed that "no one in history has done a kava-seared tuna, but the judges loved it," referring to the restaurant's recent award of best restaurant at the Fiji Tourism Awards.
Here is an excerpt of the Fiji Times article, where Zalte was accompanied by a reporter and photographer from New Zealand:
"Zalte was born in India and arrived in Fiji two-years ago after stints in Britain, the United States, Dubai and New Zealand. He said being a chef in Fiji was a joy because of the freshness and abundance of fruit, vegetables and seafood.
Zalte took us on a trip to Nadi market, the hub of food supply nearest the resort mecca of Denerau – and a great place for foodies to see the array of ingredients available. Saturday is the main market day but we visited on a Tuesday and the market was still busy.
It didn't look much from the outside but a stroll through the stalls revealed plenty of fruit and veggies unfamiliar to the New Zealand eye. Zalte assured us everything was organic – partly because the growers did not have the money to spend on fertilizers and pesticides.
Among the more exotic items we saw were spiky yellow jackfruit, bright red bongo chilies and warty-looking bush lemons and oranges.
'They look so horrible from the outside but they are the sweetest fruit you can ever eat,' Zalte enthused.
A bag of six passion fruit cost a bit less than $1 and proved to be just as sweet as he boasted. I also marveled at large bunches of fresh ginger, again less than $1 – a bargain you'd struggle to find at home.
The Asian and Indian influences in Fijian cuisine are strong and Zalte uses a special blend of 18 spices from the market for his curries. He introduced us to the spice merchant who had a colorful stall with bowls full to the brim with freshly ground spices.
We also walked past countless stalls dedicated to kava where men sat in groups drinking bowls of the gentle narcotic. It was a sight we saw in every town and village. It seems kava is as much a part of life in Fiji as going out for coffee is in New Zealand.'
This is Makaira here – and kava is as much a part of life here in Hawaii, as is coffee! I love both. Okay, back to the article!
'At the Nadi market, ready-to-drink kava, powdered kava and whole kava plants are for sale. We did not try any on this occasion; nor for that matter, did we get to sample kava-seared tuna or kava ice cream."
My friend the chef's variations on Zalte's kava-seared tuna and kava ice cream were delectable. I'm going to have to ply her with some fresh kava root to convince her to give me the recipes, which I hope to publish here in my blog at some point in the near future.
Until then, everyone have a happy and healthy week!
Aloha no,
Makaira