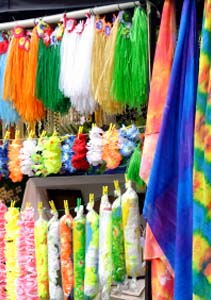 Aloha!
So again – AGAIN! (teehee!) – I find an article on kava use by important people like dignitaries and diplomats! I am always truly tickled when I read about the importance and reach of kava throughout the world. It warms my soul as much as a nice cup of our kava does at the end of my work day.
Let me fill you in on what I found. The Culture Minister of the Marquesas Islands of French Polynesia, Joseph Kaiha, gave a keynote speech at the opening of the 126th Heiva i Tahiti. 'Heiva i Tahiti' – held every July – is the most flamboyant in terms of pageantry and artistic expression of all Tahiti's festivals. In case you don't know, 'heiva' is the Tahitian word for festival.
The main venue where the festival is held is To'ata Square, the paved waterfront area in Papeete, the capital of Tahiti, that runs alongside La Maison de la Culture. It is a large, beautiful open amphitheater with a huge stage where traditional competitions of singing and dancing groups are conducted. The theatre is also lined with a complex of stalls in which traditional Tahitian arts and crafts are displayed. They celebrate their rich Tahitian culture, including singing, dancing, drumming, tattooing and weaving. It is truly an event to behold! Here is an excerpt from the article in Pacific Magazine that addresses the kava ceremonies:
"Even before the competition began, the atmosphere was established with official "'rahiri" and "kava" ceremonies, accompanied by the sounds of the "pahu," or Marquesan drums and the "Te oko o te henua" group of Marquesan musicians.
The ceremonies included a speech by Janine Maru Ara, president of the jury that will judge the various groups that will perform on four nights overall before the awards ceremony on July 17 and the final night of performances by this year's winning groups on July 18.
Patrice Teinauri conducted the traditional "kava" ceremony. Julien Mai, the Heiva i Tahiti director, described the ceremony as the "symbol of the quest for physical, moral and spiritual maturity."
Mai shared the kava drink with French government and French Polynesia government officials in the audience. They included Adolphe Colrat, who took over as French high commissioner in Tahiti on Monday and was attending his first Heiva dancing and singing competition. French Polynesia President Gaston Tong Sang was also present."
Isn't that amazing?! The far reach of kava and its importance in ritual and political protocol takes my breath away sometimes, I feel so proud.
I know I promised to share with you my first kava ceremony experience, but a daughter's work is never done! Seems to be a theme with me, no? I must go out to the fields right now to check on our organic kava crops, to make sure that the quality you've grown accustomed to will live up to our – and your – high standards.
Aloha no!
Makaira