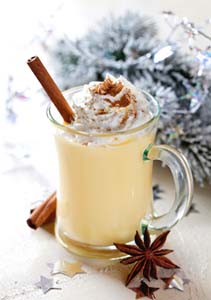 Aloha, everyone! As many of you know, I believe the possibilities of kava drinks are endless, and the traditional brew made with plain water is only the tip of the iceberg. As the winter holidays approach and the days get colder, I thought it might be the perfect time to put a spin on some cold-weather classics with holiday kava drink recipes. Most people don't exactly think of kava as tasty, but add creamy coconut, almond or dairy milk and scrumptious flavorings such as cocoa powder, cinnamon and vanilla, and you have a delicious holiday beverage that will make you feel as good as it tastes!
Moreover, the holidays are often loaded with opportunities to drink, from that extra glass of champagne to the brandy or rum in your eggnog, which add empty calories and can result in unpleasant hangovers the next day. If you're interested in cutting back on the seasonal booze, these holiday kava drinks offer a safe alternative: consumed in moderation, kava doesn't impair judgment* or result in a next-day hangover*, and these recipes are filling enough that just one should satisfy you for the rest of the evening.
Kava Eggnog: What is eggnog without a little rum, you say? Well, how about eggnog with a dash of relaxing kava instead? Kava contains a complex range of kavalactones, some of which dissolve in water, others in lipids (fats). This recipe uses rich eggnog mixed with prepared kava for a creamy, chilled delight!
Ingredients: ¼ cup kava root power
½ cup cool water
2 cups eggnog
Preparation: Place the kava power inside an 8"x 8" square of cheesecloth, an old T-shirt, or one of Kona Kava Farm's muslin strainer bags  and wrap the ends tightly together. Immerse the bundle in the water and knead it gently until the water turns opaque tan and takes on a slightly oily sheen. Squeeze excess water from the bundle and discard the kava root. Combine the kava mixture and the eggnog in a blender and blend on high for 30 seconds, or until the mixture has become smooth. Garnish with grated nutmeg if  you desire. Makes 2 servings.
Kava Hot Cocoa: Although kava is traditionally prepared cold, some kavasseurs in the online community have suggested that it can be heated without destroying the active kavalactones, as long as you keep the temperature below 140 degrees Fahrenheit (60 degrees Celsius). And since kava already pairs exquisitely with chocolate, what better classic holiday recipe to mix up than a rich, chocolately kava hot cocoa?
Ingredients: ¼ cup kava root powder
½ cup cool water
2 cups milk or nut milk
¼ cup cocoa powder
½ teaspoon vanilla extract
3 tablespoons granulated sugar or cane sugar (or a pinch of stevia, to taste)
Preparation: In a separate bowl, prepare the kava mixture as above. Place the milk in a small saucepan over low heat, stirring constantly. Add the cocoa powder and sugar (or stevia) and stir until dissolved and the mixture has become smooth, with no lumps. If you wish, test the temperature of the milk with a food thermometer to make sure it doesn't exceed 140 degrees Fahrenheit (60 Celsius). The ideal temperature for hot milk is around 120 degrees Fahrenheit (49 Celsius). Take the saucepan off the heat, add the vanilla extract and kava mixture and quickly whisk together until frothy. Pour into mugs and add marshmallows if desired. Makes 2 servings.
Aloha no,
Makaira
*These statements have not been evaluated by the Food and Drug Administration. This product is not intended to cure, treat, diagnose, or prevent any disease.