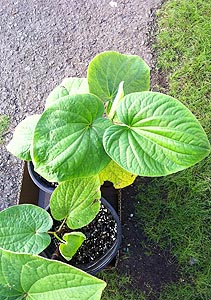 On our farm, we have several acres of Piper methysticum flourishing year round. This shrub thrives at about 500 to 1000 feet above sea level, and we are right within the perfect range for the optimum Kava production. Our plants dwarf us, and are about 20 feet tall, with rhizomes sprawling in every direction from each plant base for about 10 feet. Some rhizomes are below the surface, and some are above the surface, but they can be traced quite easily from the base of the plant.
The minimum time to take your first harvest from the shrubs without endangering the shrub is about 3 years. Any less, and the shrub is in danger of dying. At Kona Kava Farm, we allow our plants to mature a minimum of 5 years before we harvest the first and only root from the plant. When we do actually harvest the plant, we take mostly lateral roots, or the runners that run along the ground. This is also the strongest part of the Kava plant as well.
Once the first set of runners is harvested, it takes 3 years to get a second set of harvestable runners from the same plant, but we only take 1 harvest per plant. The strongest kava comes from first generation roots and rhizomes, so we are constantly rotating our plants and crops to ensure maximum potency. Although, it is important to note that kava plants rarely produce seeds and almost every plant is propagated through cuttings!
Also, if you look at photos of our plants in the photo section, you will see that our fields are surrounded by taller trees. This is because kava plants love the shade, and also love water. You would be amazed at how much water these little bundles of joy can produce. Since they spread out so wide, we keep the plants separated by abut 6 feet, which yields an average of about 1200 plants per acre. That's a lot of plants!
Since we do not harvest the fruit or the flowers from the plant, we can harvest year round. We try to harvest rootstock that is a minimum of 3 inches thick, although we have harvest some roots that were 6 inches thick, and we take care to use ONLY roots and rhizomes. In fact we are so careful, that we get about 20% less dried kava per plant because we steer so clear of anything but the most strongest parts of the plant.
As we harvest the plants, they are cut on site to small pieces that weigh just a couple of ounces each. This allows for quick and even drying, although it is important to note that kava, to remain at its maximum potency, like a good cigar, needs to retain some moisture. (If you are buying kava form anywhere, make sure it's in a sealed foil pack!) But all of our plants are dried naturally, in the sun by Mother Nature, and this is another one of those personal steps in harvesting that we feel makes such a difference in the final product. We are also convinced that this is also why our root is often "sweet"; and that's saying a lot for this bitter root!
Something you owe yourself, especially if you're a fan of Kava, is at least one experience with freshly harvested root; the drink is so much less bitter, so much stronger, and so much more alive! Your body will thank you, and only then will you truly know why this plant is such an integral part of our people and culture.
Aloha no,
Makaira