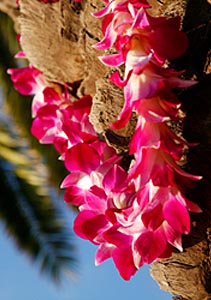 Aloha Everyone!
The weather here in Hawaii has been wonderful lately. Things got a little crazy back in March with tons of rain, hail, flooding, and even a waterspout! But now we're back to normal with lovely weather, lots of sun, and just enough sweet island rain here and there to make the 'awa plants sing. Of course, I've been super busy on the farm, but I've still had time to gather some of the most recent kava news, and I'm happy to report that everything is looking great for global awareness of this magnificent healer! The influx of articles about the 'terrible dangers' of kava to the liver have stopped, and are being replaced with plenty of pieces highlighting the excellent benefits to health and local economies that kava has to offer!
First, on an individual health level, we have a brief article from Natural Standard, a database that provides news on integrative medicinal techniques. They highlight a new study that analyzed 10 human trials to determine the effects that kava has on the brain. The review determined that kava "significantly improved both memory and visual attention", although it reduced visual attention for "high-pressure cognitive tasks." The report states that there is no evidence that kava has a significantly negative effect on the brain, and that it is neither sedating nor tolerance-forming in the right doses. You can view the abstract for the study on PubMed.
Now, all of this information is obvious to anyone who has been respectfully using kava for any amount of time – kava makes us feel more relaxed, which makes it easier to focus and remember important information. However, it's not the best thing in the world for doing really high pressure work – it's much better for relaxing and focusing on enjoyable social experiences and meditative practice. And, when used in the appropriate doses, it's perfectly safe and does not damage the liver or the mind. The article also mentions that the quality of reports stating that kava damages the liver has been variable. "Several are vague, describe use of products that do not actually list kava as an ingredient, or include patients who also ingest large quantities of alcohol."
I'm glad there are folks out there paying as much attention as we are!
Another article from The Fiji Times Online discusses the benefits that kava has for the economy of the country. The Fiji Kava Council has reported that the increased demand for kava in Western countries has led to a great deal of economic benefit in Fiji. The article does mention that the lack of quality consideration from many growers who jumped on the kava bandwagon in the 90's did lead to some damage to the reputation of the industry in the country. However, the kava trade also provides very poor farmers with the ability to care for their families and to educate their children. As Fiji is presently in talks with countries in Europe that have banned kava imports, it is hoped that these benefits will increase as more markets open up. Hopefully, those unscrupulous farmers have learned a lessons about quality, and will be able to enter the world market with high quality kava, thus benefiting their villages and the country as a whole. If all goes well, people in Fiji may experience a much higher quality of life thanks to this wonderful plant! I certainly wish them the best!
This final article isn't about kava directly but it really spoke to my heart as a Hawaiian native, and I wanted to share it with all of you. The Dalai Lama recently came to visit Hawaii and gave several talks at Universities and schools on the big island. The theme of one of his talks was "Advancing Peace through the Power of Aloha". In it, he spoke to the importance of keeping our indigenous Hawaiian culture and language alive, and discussed the concept of Aloha. If you didn't know, this word has a much broader meaning than hello – it indicates the breath of life – peace, love, compassion, and wisdom. Understanding this, you can understand the true power of the Aloha Spirit!
There are quite a few videos of the Dalai Lama's talks in Hawaii online. I really enjoyed this one, and you can find many others on Youtube as well!
Although I was too busy to attend the Dalai Lama's talks in person, I was thrilled to read about his visit and watch these videos, and am excited to see where we as a community can go with such wonderful inspiration. The Hawaiian people have experienced much suffering since encountering Westerners – it is encouraging that now contact with the outside world is assisting us in waking up to our own true nature. We are once again learning to appreciate and love our indigenous culture and our islands, and to nourish the love and compassion that we have inside our souls!
I feel that 'awa is a big part of our powerful aloha spirit here on the islands – it provides us with inner peace and the ability to see clearly with love and compassion, even when things become very difficult.
The beautiful 'awa plant truly embodies the Aloha Spirit, and helps us to cultivate that spirit in our own hearts through good times and bad. As these news articles show, it is truly a powerful healer, and can even help to improve the lives of whole communities and countries. I feel blessed to be able to work with and spread the message of this plant, and am excited to see what healing benefits 'awa will have for the Hawaiian people and the planet in the near future!
Aloha no,
Makaira