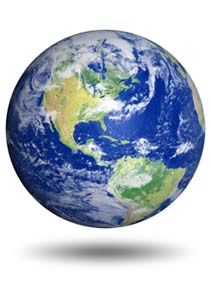 For an in-depth look at the true cause of the temporary worldwide Kava ban in the early 2000's, refer to my eZine Articles story entitled; "What is the Legal Status of Kava?".
Australia
DO WE SHIP KAVA TO AUSTRALIA?: Yes, occasionally. | SUCCESS RATE: 50%
Kava is legal to possess & sell in Australia, but it is illegal to import into Australia without a license, since it's listed as a "Schedule IV" in the AU Import Regulations which outline all of the import laws. Below is a comment about Australian Kava Law, by Torsten of Shaman Australis, from October of 2001, in which he clarifies what the law is:
"It was once given to Aborigines to help get them off alcohol. Some liked it a little too much and started getting health problems from it, so it was scheduled as a drug. We don't have different levels of scheduling like the US, but we have provisions for licenses for any drug. It is very easy to get a kava license. The government just wants to be able to track volumes and trading sources. It is completely illegal in one state. Due to our multicultural make-up there are special provisions that you are allowed to carry 3 months supply on your person into the country. It is also freely available in Islander and Fiji shops. No problem getting it really, it's just the wholesale is a bit dodgy."
Unfortunately, we often have difficulty getting our kava through to customers in Australia. If you are considering ordering kava to Australia, please be aware that there is a good chance that you will not receive your package and that you place an order at your own risk.
Britain/United Kingdom/U.K.
DO WE SHIP KAVA TO THE U.K.?: Yes, daily. | SUCCESS RATE: 98%
We regularly ship Kava to the U.K., with about a 98% success rate.  Shipping costs are higher than anywhere else in the world, though.  On the technical side: Britain has banned the sale of medicines that contain kava extracts, but the importation of it by individuals as an herbal supplement is still reportedly legal or at least accepted. So, it seems that at least plain root powder is still legal for sale, but it's unclear what the actual law is in relation to this. See: Reuters, Dec 2002.
It also appears that kava is banned for import or sale for the purpose of ingestion (internal use): Statutory Instrument 2002 No.3170 : The Medicines for Human Use (Kava-kava) (prohibition) Order 2002 :The Stationery Office Ltd , UK Government E1856 12/02. Kava Ban Update
Canada
DO WE SHIP KAVA TO CANADA?: Yes, daily. | SUCCESS RATE: 99.9%
Health Canada, issued a stop order forbidding kava products sold for human consumption in Canada in August, 2002, but Kona Kava Farm has received EXPLICIT PERMISSION from Health Canada to export Kava Kava to Canada, as long as it's to individuals who are using it for personal consumption, and NOT to any businesses. This is VERY exciting news for us, and as long as you're not a business, we are happy to send our entire line of products to our friends in chilly Canada from sunny Hawaii!
As of this ruling, all products containing kava including drinks, supplements, etc have been banned by Health Canada, but there is no specific law outlawing kava herbal supplements in Canada. More in our "KAVA (NOT) BANNED IN CANADA" article.
Also, in January of 2004, new natural health product regulations came into effect under the auspices of the Natural Health Products Directorate of Health Canada. Kava could then return to the market, provided the safety concerns can be mitigated through appropriate use of warning labels or other measures.
We've sold plain kava root to customers in Canada and have rarely had problems.
France
DO WE SHIP KAVA TO FRANCE?: Yes, daily. | SUCCESS RATE: 99.9%
Kava supplements and products have reportedly been banned for sale, but we cannot find any supporting proof or evidence in relation to this, and have never had a problem shipping Kava to France. Reportedly, Piper methysticum is still available from herbalists, which is exactly the same thing as Kava.
Germany
DO WE SHIP KAVA TO GERMANY?: Yes, daily. | SUCCESS RATE: 90.0%
Germany lifted it's ban on Kava in early 2014.  The problem is, many Customs Agents in Germany do not yet realize that, and still sometimes stop Kava shipments legally going into Germany.  Germany is where the original Kava ban that sparked worldwide banning of Kava originated. As Kava started to hit the mainstream in the early 2000's, there was not enough supply to fill the demand, and shady growers and possibly unknowing suppliers who bought kava from those growers, started manufacturing Kava using the leaves and peelings of the plant…the parts that were always thrown away, and now, with recent research; the parts that are poisonous. If you want to learn about the Kava scare in detail, please read my article published on eZineArticles entitled; "What is the Legal Status of Kava?" for more.
There has been much speculation that pharmaceutical companies were behind the "kava causes liver damage" propaganda in order to gain back the sales of Prozac. More and more doctors were successfully prescribing kava instead of dangerous and addicting drugs, and without question, the pharmaceutical companies were taking notice. Kava was so effective for treating anxiety that it was actually prescribed more than Prozac, especially for children.
After it was discovered that the findings were false, that liver toxicity happens from kava only when the widely-known poisonous leaves are used instead of the extremely safe roots, Germany moved to lift its ban in 2007 after almost everyone else in the world did.
Since then, we've been shipping a LARGE amount of kava orders to Germany without any trouble since.
~~~~~~~~~~  ~~~  ~~~~~~~~~~
DO WE SHIP KAVA TO THE REST OF THE WORLD?: Yes, daily. | SUCCESS RATE: 95.0%
Ireland
Irish health food and supplement vendors voluntarily withdrew kava kava from their shelves in 2002 on the recommendation of the Irish Medicines Board (IMB). However, the sources we found all agree that the IMB does not prevent individuals from importing kava into Ireland for personal use.
Italy
I have been unable to find any reliable information about the legal status of kava in Italy, but I can tell you that we have had a difficult time getting kava through to customers in Italy recently. We will ship kava to Italy, but please be aware that you place orders at your own risk and that there is nothing we can do if your order is seized by customs.
Japan
VISITOR SUBMITTED: Kava isn't banned by the government since 2002, but has been strictly administrated in trading. What this means is that it's not illegal to buy and sell Kava, it's just very restricted.  The laws governing Kava in Japan sound a lot like the laws governing Kava in Canada.
New Zealand
Kava-containing supplements are sold throughout New Zealand, and we have also shipped to New Zealand without a single order being sent back to us. We're still waiting for more information.
Norway
Kava supplements and products are not specifically controlled in Norway, but we have been told that the national health council considers it a prescription drug (available only from a pharmacy) based on its use as a calming agent. This is yet another case where the legal status of Kava is unclear. Sometimes when we ship Kava to Norway (and Finland) it gets stopped, and other times it gets through without any problems.
Poland
As far as we could ascertain, Poland is the only country in the EU with an outright ban on kava. According to European Commission spokesman Matthew Newman, it is illegal to import, sell, grow, consume, or even possess kava kava in Poland! You can learn more here: Europe Explains Its Stand on Kava from the Pacific.
South Africa
South Africa banned the sale or importation of kava in 2002, at the same time the EU instituted its kava ban. The EU later retracted its ban in 2006 after  new evidence revealed that kava is safe for the liver when prepared and used appropriately, but South Africa never followed suit.
The Facebook group Kava Kava South Africa has launched a petition to the South African Medicines Control Council (MCC) to legalize kava so that South Africans may access its benefits. You can sign the petition on their page: Kava Kava South Africa.
Sweden
We have received conflicting reports about whether kava is available in Sweden. Some say that kava supplements and products banned for sale, while others say it is commonly available.
Switzerland
Kava is legal in Switzerland, but a pharmaceutical product called "Laitan", which is a Kavalactone product that is sold in pharmacies across Europe, has been banned for sale in Switzerland.