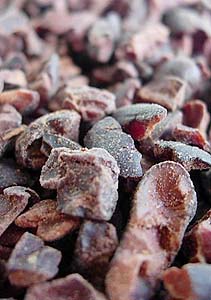 Aloha everyone!
I feel like it's been awhile since I posted a blog article. Things have been so completely busy here at the farm, and I've barely had the chance to read the news, much less write a new post. I hope everyone had an amazing Valentine's Day and was able to share some delicacies with their loved ones! A friend of mine came to visit me from Japan, and so, following the Japanese tradition for Valentine's Day, she and I made handmade chocolates and gave them to my whole family and quite a few of my friends. I even made a few pieces with some kava in them! Kava and chocolate is a surprisingly good combination, since the powerful sweetness of the chocolate balances well with the earthiness of the kava. Once I perfect my kava chocolate recipe I'll definitely post it up here for all of you!
The reason that I was actually inspired to write this blog post, though, was not because of kava chocolates, as amazing as they are. I finally had a chance to sit back and read the news online today and I actually found two surprising kava articles that I wanted to share with all of you!
The first article is a pretty short one, but it really made me smile. According to a New Zealand news site, Fiji, which declared itself an independent country twenty-four years ago, has finally removed the image of the Queen of England from their coins. And what did they choose to replace her on the new two dollar coin? A traditional kava bowl (tanoa)!!  I feel like this is a pretty amazing symbol in a couple of ways. First of all, Fiji is finally removing the symbols of its oppression under colonialism! And not only that, they are choosing to express the most important symbols of real Fijian culture on their currency, and those symbols include kava! I feel like this is a great sign both for the development of Fiji and for the strength of traditional Kava use in the country!
The second article comes from a British site and is related to the Australian Kava study I discussed last month. This study has been coming up over and over again in the news, and this particular article is interesting in that it states that the British Journal of Clinical Pharmacology has published the framework established by that study and is promoting the expansion of the safe medicinal use of kava!! Now, as I've mentioned before, I'm not really sure how I feel about kava becoming a standardized pharmaceutical medicine. On the one hand, it does increase accessibility and safety. On the other hand, though, I feel like making kava into a pill destroys its traditional foundation, and also prevents people from really respecting it as a healing plant.
In the long run, though, I think that this is a very positive trend over all. After all, the ban on Kava was only lifted in 2008 in the EU, so the fact that, just three years later, the medical community is seriously considering kava to be a safe and effective tool for treating anxiety is a huge, huge step in a really good direction! I just hope that more traditional forms of kava also continue to be available and gain in popularity. Fortunately, with the developments in Fiji, it seems that this will likely be the case!
Let me know if you come across any more articles on kava in the news! I'm excited to see what the future holds for this amazing plant and the traditions that surround it!
Aloha no,
Makaira