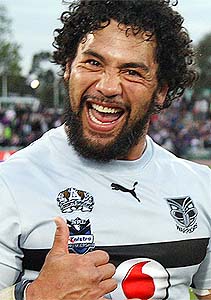 Aloha!
I read some news over this past weekend that made my heart soar. There were several articles I discovered online about Ruben Wiki, a star player with the New Zealand National Rugby League for the New Zealand Warriors.
Ruben is 35 years old, which I believe is generally considered "old" for an athlete, isn't it? I giggle as I write "old" since I am the ripe "old" age of 42 and don't feel a day over 25, which of course I think is, in part, due to my daily drinking of kava. My fifteen-year-old son, Kahoku, plays in the Hawaiian Youth Rugby League, so I believe this Ruben Wiki is unusually old for a player, especially such a successful one!
What I found especially inspiring is that Ruben is quoted in these articles as attributing his athletic success to the bowl of Kava that he drinks after each match, which he credits for his longevity in the game. He just played his 300th match, and that is a lot of games!
As a way to celebrate, he had a special kava ceremony with his teammates in honor of his reaching 300!!! Here are parts of articles I found about this very special kava ceremony:
"There were 300 cups of kava lined up and a whiteboard to keep the score. Last night many bowls of the [drink], the very stuff that got Ruben Wiki through 300 NRL games, were drunk in celebration by the 35-year-old.
But Wiki was not drinking the vast quantity of brew by himself. As he was the eldest, Wiki said there was no other choice but for his fellow Warriors to do the same.
"I'm going to try and crack 300," Wiki said. "Everyone will have cup, we'll mark it on the board, until we get to 300. It's compulsory for the whole team to drink it."
The key ingredients that pushed him to become the first Kiwi to play 300 games, and through 55 Tests, are not only the bowls of kava but his wife Santa. His post-game tradition is to drink kava and play Pacific Island music to relax with Santa."
– AND –
"LONG before the outcome of yesterday's game at Leichhardt Oval, Warriors legend Ruben Wiki worked out how many cups of kava he and his team-mates would sink last night.
Not surprisingly, the magical number was 300.
Wiki, the NRL's most famous purveyor of the Pacific island drink, made his 300th appearance in the premiership yesterday and, fittingly, he walked off Leichhardt Oval a winner. In the process, he became only the ninth player in premiership history to achieve the magical mark.
'We'll be drinking 300 cups (of kava) tonight, that's for sure," Wiki said smiling. "It works out to be about 15 each."
Isn't that exciting! A personal testament to the power of kava by an athlete of international proportions! We couldn't have asked for better advertising for my favorite plant, kava!!
Aloha no!
Maikara