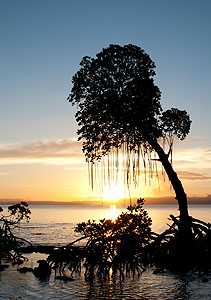 Aloha!
I recently stumbled across a book I felt compelled to buy based solely on its title: Kava in the Blood – I mean, how could I pass that up?
It's the autobiography of Peter Thomson, a former kaiviti (which loosely translates to "native citizen of Fiji" in the Fijian language), who was an employee of Fiji's ruling class under the monarchy of Queen Elizabeth II; from 1967 to 1987 she was also known as the Queen of Fiji.
"Kava In The Blood" covers the era from Thomson's birth in Suva until his forced exile from Fiji in 1987. He was imprisoned, then cast out following two military coups that year which resulted in the monarchy of Fiji being replaced by a republic. He was a former district officer, a diplomat, the head of government information and the permanent secretary to the Queen's last ambassador to Fiji.
You can tell by the way he gushes about Fiji and its customs that Thomson really has a deep affection for his native land, a fact that has been duly tested by his own personal struggles during some of the country's most turbulent times.
Thomson's account of these events, and especially the successive coups he witnessed first hand, make Kava in the Blood compelling reading for anyone interested in world politics.
Sitiveni Rabuka, the man who instigated the two military coups in 1987, went on the serve as the Prime Minister of Fiji from 1992 to 1999. Rabuka forced Thomson to write the formal public announcement of his first coup and then later threw him into a filthy, excrement-smeared prison cell after the second one.
The Fiji Times writes in its review of the book, "Political drama is skillfully interwoven through fascinating insight into day-to-day life as Thomson moves from boyhood to manhood during the colonial era of [Fiji in] the 1950s and 60s, through to the post-independence decades that followed.
Indeed, the main strength of Kava in the Blood lies in the balance the author strikes between the gravitas of national life and reminding us of the little, often amusing things that make Fiji special.
Thomson's compendium of kaiviti slang alone makes Kava in the Blood 'fit, men' – that is in Fijian, 'really good' – and a book that brings back a host of happy memories for Fijians who grew up in a more innocent age.
But more importantly, it helps fill an enormous gap in the literature that chronicles these islands in our time and will be the one tome successive generations turn to for a snapshot of independent Fiji's formative years.
'True's up' – Fiji badly needs more books like this. Peter Thomson's skill as a writer evokes these smaller vignettes within the overall big picture of the nation's development.
Kava in the Blood vividly captures the seismic shock of the first 1987 coup, the desperate attempts to right the ship of state, the false optimism and the dashed hopes for a return to democracy within the Commonwealth when Rabuka intervened again.
Peter Thomson had accepted a personal summons from the Governor General, Ratu Sir Penaia Ganilau, to become his permanent secretary and help him chart a way out of the mess.
It proved to be a poisoned chalice. Having become a high profile "Government House spokesman", Thomson came to be regarded by Rabuka and his Taukei Movement supporters as an impediment to their cause, so they threw him in prison.
They'd abrogated the constitution and declared Fiji a republic so there was nothing his old boss could do to get him out.
Thomson found out the hard way that being born in Fiji as a white man even to a family stretching back five generations, doesn't guarantee acceptance.
And this is the tragedy that emerges from the pages of Kava in the Blood: the racism that tears at the fabric of national life and prevents Fiji from emulating Australia and New Zealand in becoming a largely tolerant multi-racial, multi-cultural democracy.
The book is riddled with examples.
As district officer in Taveuni, Thomson chairs a meeting at which a Fijian leader suddenly blurts out that all white people should be kicked off the island.
There's an awkward silence until the man says, "Oh, but not you Peter, you're one of us".
It's not the first time Thomson realizes that even locally-born Europeans immersed in local culture don't have a birth-right.
They're essentially regarded as outsiders, tolerated only so long as they comply with local expectations and don't offend.
Thomson's "crime" in 1987 was to be at the side of the Governor General, Ratu Sir Penaia Ganilau, trying to save the country for democracy and resolve the crisis in an even-handed manner.
Ratu Sir Penaia saw nothing wrong with having a white man as his main advisor, just as he enjoyed having a whisky with Jai Ram Reddy, an Indian leader who also strove to be color blind.
Peter Thomson knew his world was crumbling well before the soldiers came for him in the dead of night.
To be thrown into a filthy prison cell swarming with mosquitoes for simply doing your job was dispiriting enough, but there were more humiliations to come.
Knowing his career in government was effectively over, Thomson made what for him was an agonizing decision, to apply for a foreign passport to enable him to leave Fiji, thereby having to renounce his Fiji citizenship.
And yet, in one more perverse twist, the military at Nadi Airport tried to prevent him from boarding his aircraft to leave the country.
Skilful writer that he is, Thomson is able to describe the maelstrom of conflicting emotions that engulfed him as the plane thundered down the runway and in the subsequent weeks and months as he tried to rebuild his life in New Zealand.
Fiji has both a wonderful and terrible impact on Europeans born here, wonderful because of the enrichment of the local experience, terrible because of the wrench of leaving and a subsequent life of emotional dislocation in lands that don't feel like our own.
Thomson brilliantly captures all of this in a way that will resonate with thousands of former Fiji residents.
The 1999 version of Kava in the Blood won New Zealand's foremost award for a new non-fiction author.
But with the first two printings sold out and copies of the book changing hands on the internet for triple the initial retail price, a new edition has been issued including a collection of Fiji photographs and a postscript updating events to the present.
Time, as they say, is a great healer and two decades on, Thomson returns to Fiji frequently, is on friendly terms with Rabuka and had one of his coup persecutors, Ratu Meli Vesikula, apologize in person for what he now regards as his errant ways."
The book goes on to describe Thomson's return and gives the lay of Fiji as it stands today; a land now populated primarily of indigenous people, with few born-Fijians of European descent. However, even with all his hardship, I bet that Thomson is glad to be able to go back home. The land of your birth stays with you, no matter how poorly it has treated you.
Aloha no,
Makaira