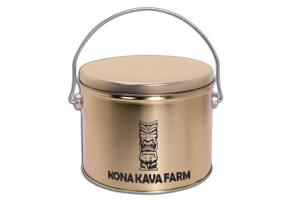 Dearest Kava Lovers,
Makaira here once again! – I feel your frustration; it can get quite confusing quite quickly with so many Kava forms and varieties to pick from!  It's hard enough to choose a favorite variety of Kava, add some different varieties to that, and eyes can gloss over very quickly.  Well, fret not, I'm here to give you an easy starting point. Here are 3 of our popular kava starter packs:
Included in the $22.99 Kava Sampler Pack is 1/4 lb package (4 ounces) of Powdered Plus Kava Root.  This is our Top Quality Kava Root, of course!  Next, we include a reusable Muslin Extraction Bag.  That's used to make your very first Kona Kava Kava Drink!  We then throw in a 2oz package of our ever-popular Instant Kava Mix, Cocoa flavor.  That simply makes enjoying this versatile dietary supplement easy:  All you need to do is mix the Instant Kava Mix with your favorite milk, soy milk, coconut milk, or even a favorite juice drink.  What you mix it with isn't that critical, as it will dissolve in any liquid you place it into.
Next, we throw in either 6 of the 30% Kavalactone Capsules or 6 of the KavaLOVEtone Capsules.  That will give you a great idea of whether or not you like to enjoy Kava as a capsule instead of powdered root that you make into a drink, or as an instant Kava mix.  In all honesty, we sell an equal amount of the powdered Kava root, the Instant Kava Drink Mix, and the various forms of Kava Capsules we have, so it's impossible to say which one would work best for you.
What's even more exciting, is that our Kava Starter Packs, as of 01 APRIL 2014 now include custom-printed Kona Kava Farm tins to keep your Starter Pack at first, and then your Powdered Kava Root, Instant Kava Mix, or whatever other kava-related item you wish.  That's the photo at the top of this post.
This is a great place to start, as it has everything you need for a small Kava picnic for two.  At just $22.99, we give you ample amount (4oz) of our best Noble Kava Root.  We then include more than enough soy lecithin and lemongrass that you can keep for your next purchase of Kava.  We give you a real 6″ x 10″ muslin bag to extract and massage your Kava.  And, the prize of this package is a set of 2 acacia wood single serving bowls (small).  All packaged in our custom Kona Kava Farm tins, and you've got our Top Selling gift pack for the Holiday Season.
This is our simplest introduction to Kava at just $9.99.  It's got the same items that our above Kava Starter Kit has, minus the custom tin and the elegant hand-carved Kava serving bowls.  This is a staple of customers, and makes a quick, fun gift for any loved one.
If you already have an idea of what type of Kava you want, we advise that you start small, and start simply.  If you know you're not going to want to deal with a slightly messy extraction, if you're not that interested in making your own smoothies, then it's likely that powdered Kava root won't be for you.  Perhaps it would be best to start with an Instant Kava Mix.  What's fun about the Instant Kava Mix, is that you can try it out in lots of different liquids.
My preference; water!
But then again, I find the taste of Kava to be deeply satisfying and pleasant.  So, I might be just a little biased!
And yes, there are capsules and Kavalactone Paste, but let me make one comment in regards to capsules and pastes:  I am very passionate about Kava, especially when it comes to its traditional use.  For me, the true Kava experience isn't just about the method of ingesting Kava; it's about the entire ritual, start to finish, that adds to the flavor, character, and the quality of your Kava experience.  This plant has such a beautiful energy, and I will always feel that the absolute best way to experience that quality experience, is to enjoy it the way the original Kava users did; by mashing up the fresh roots of Kava, letting it ferment slightly, blending it with water, and gulping down a shell or two in rapid succession.
With a freshly-extracted Kava drink that you had to work for just a bit, if your mouth gets numb, then you know you're on the right track towards enjoying the Kava experience.  Without that sensation (say, if you simply take Kava as a capsule), I feel that you are missing out on some of the whole experience.  But that's just me, and I want you to enjoy your Kava whatever way works the best for you!
Aloha no,
Makaira