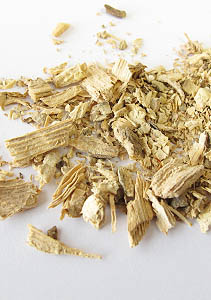 Aloha everyone!
We've been getting a lot of questions from our customers recently concerning some of our more unusual products – our whole kava root and kava root chips. These products aren't as popular as our ground Mahakea kava root, and for good reason – they are a great deal more difficult to work with and require quite a lot of effort to prepare. However, they do bring significant benefits along with all that extra work.
As I'm sure most of you know, here in Hawaii and in other parts of the Pacific, it is traditional to drink 'awa that is prepared with the whole, fresh root. This produces the freshest and strongest possible beverage. However, for those of you who do not live on a Pacific island, it is almost impossible to obtain fresh kava root – the plant needs a tropical environment to thrive, and it is almost impossible to ship fresh. This is quite unfortunate, as the experience of drinking 'awa prepared from fresh root is truly unlike any other.
This is where our whole kava root and kava root chips come into the picture. You see, the smaller something is broken down, the more quickly it loses effectiveness over time. Think of parmesan cheese, for example. If you buy a big block of it at the store, it will stay fresh for quite some time in the refrigerator, and the flavor will still be fresh and lively when you grate it over your dinner a month or so after purchase. However, if you select already-grated parmesan cheese, you will find that the flavor rapidly degrades, leaving you with a much less tasty experience after a short time. Sure, pre-grated cheese is easier to use, but you lose quite a bit of flavor in the process.
Kava is the same way. When the root is left whole or processed into large pieces, there is significantly less surface area from which alkaloids and other beneficial components can be degraded, and much of this surface area is protected by the outer bark of the root. On the other hand, when the root is ground up, each tiny particle has significantly more surface area from which to lose effectiveness, and this surface area is no longer protected by the bark. Thus, you end up with a product that is much more convenient but that also loses its strength more rapidly.
Now, we ensure our Mahakea Kava root powder is always as fresh as possible, and are sure not to store it for any excessive period of time, so you will still find that the kava prepared with our root powder is quite effective. However, if you are looking for 'awa that is more akin to the traditional experience, and you are willing to do a bit more work, we highly suggest trying out our whole dried root or our kava root chips.
The first thing to keep in mind is that whole dried kava is very tough. Please do not try to grind it in a coffee grinder, food processor, or blender –  you may destroy your appliance! Rather than trying to grind the root, you want to break the root down by pounding or pulverizing the quantity you wish to prepare. You only need to pound the root enough to break the fibers so that you can squeeze and strain the mixture in water in the traditional fashion.
First, soak the dried root in lukewarm water for at least a few hours (overnight is best). Next, you will pound the kava. In Hawaii, we use large wooden or stone mortars and pestles for this job much of the time. If you do not have access to anything like this, you may try putting the kava on a heavy wooden cutting board and pounding it with a heavy rolling pin, meat tenderizer, or even a small sledge hammer. You may want to add more water as you pound the root to assist in the process of breaking down the fibers. If you are still having trouble, freeze the root after soaking it overnight – ice crystals will form between the fibers, breaking down the root further – then thaw and pulverize.
Once the root has broken down and become soft, simply place in a bowl of cold water and squeeze and knead the root fibers for five to ten minutes until the water becomes cloudy and opaque. If you were able to pulverize the root for long enough, you will end up with a delicious, extra strong and very fresh kava beverage that will bring you as close to the fresh kava root experience as possible!
If you have any questions about using whole dried kava root or kava chips, or if you have any tips or recipes for using these unusual products, please leave a comment and let us know!
Aloha no,
Makaira