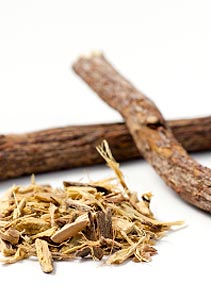 Philippe asked: I recently ordered some of your kava, and I noticed that on the package it says" 10% underground root, and 90% lateral roots" for your kava. Other sites and yours say that the lateral roots are the strongest part of the plant, but I remember seeing somewhere on your website that use use 10% lateral roots and 90% underground roots. Also, wouldn't you be in danger of getting leaves and stems in your kava if you harvest 90% lateral roots as your packaging says? – Please clarify for me if you would be so kind.
Makaira says: So sorry about the confusion, Philippe! – It was a website misprint  and has been remedied. In short, we are extremely careful about how we harvest our treasured Kava plants. We sustainably harvest them and continually rotate our crops to ensure continued consistency and strength. To preserve our plants, so that they can produce the sweetest and–strongest–kava for years, we protect the underground roots, and harvest only 10% of the underground roots with each harvest. When we take 90% lateral roots, it still preserves the plant, so that it can re-foliate over and over again.
We never use a single stem or a single leaf in any of our products; making kava out of the stems and the leaves is not a good idea, as the leaves can be poisonous. But, it's not a difficult task to make sure that not a single stem or leaf gets in our harvest because stems and leaves are quite different than the roots we harvest. Unscrupulous companies who only care about making money have sometimes been known to use other parts of the plant, but we care about our customers and reputation equally, so we would never dream of using anything but roots for our products.
Aloha no,
Makaira