Kona Kava Farm was nestled on the fertile volcanic slopes of Kona's Hualalai Mountain where climatic conditions and micronutrient-rich soil are famous for producing Hawaii's most sought-after coffee. The farm was in our family for generations, long before the United States entered our lands and dismantled our government, when we lived in harmony with Mother Nature, rich in cultural traditions that honored and respected the Earth. But, our farmhouse burned down several years ago, and we sold the property to someone who chose not to rebuild and continue using the land for farming.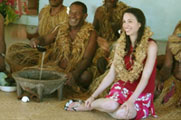 Our crop thrived on Hualalai Mountain at an optimum elevation of 1100′ with scheduled organic fertilization, irrigation, and generous spacing in poison-free volcanic soil. This, combined with Hawaii's penetrating sunlight, the magical micronutrients of the famed Kona coffee belt and an abundance of tender loving care that is best achieved on an estate farm, has eliminated the need for any insecticides or herbicides. Our 'Awa was mountain-grown and naturally sun-dried by the sea. These ideal conditions produced a kavalactone-rich, yet surprisingly smooth-tasting kava kava.
Now, we are proud to offer unique strains of kava kava that are not easily available anywhere else. We are constantly on the lookout for noble varieties of Kava that are known as the "Happy Kava" varieties. These typically have a 4-2-6 or 2-4-6 chemotype (also called the Kavalactone lineup). In our opinion, this also makes for the most effective and sweet-tasting kava in the world.
So, our farm was on a private family estate, and although we loved what we did and all of the customers who purchase our Kava, it was also our home. Because of that, we never gave tours to anyone even when the farm was thriving. This included locals and/or visiting customers as well. Instead, we now work with a number of farmers directly, with 2 located in Hawaii, 2 others located in Vanuatu, and one more in Fiji. (None of them offer tours of their farms, either, although I know the excitement of walking through rows of Kava plants as tall or taller than you.) We take the same care in monitoring everything from the nutrients in the soil, to the plant maturity, to the extreme care to harvest all Kava plants sustainably. We also have ensured that each of our farmers follows the strictest hygienic practices, with water that is purified to ensure low bacterial counts and absolutely zero pathogens, before any processing or sterilization is applied.
The same personal passion and care for the Kava we grew and shared for generations, is applied to the Kava we bring to you today. This is why we always have, and always will bring you only the finest Kava we can find, while ensuring that every one of our products are crafted in a beyond-compliant GMP manufacturing facility. All of our Kava comes with verifiable Certificates of Analysis that cover the Kavalactone content, heavy metal content, and the biological analysis of each and every product.
You can reach me personally via e-mail at kavashop at konakavafarm dot com, or you can call anytime as well, and a friendly, informative member of our Chicago processing facility will gladly assist you.
Kona Kava Farm 75-6056 Alii Dr. Kailua-Kona, HI 96740 US
Toll Free: (866) 649-2117 Outside of USA: (312) 455-8475