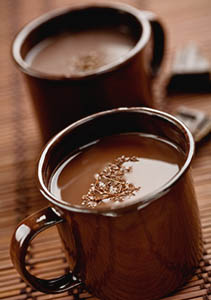 Aloha, everyone! Makaira here! With the year steadily ticking on into the winter months, I thought it might be the perfect time to share some yummy vegan hot chocolate recipes with our readers. Once upon a time, a truly rich, creamy and satisfying hot cocoa was off the menu for those who were serious about a vegan lifestyle: it turns out that it's hard to replicate the creamy blandness of cow's milk using a nondairy substitute such as soy milk, which was once the only option open to vegans. However, the market has evolved, vegan options have expanded to meet demand, and some adventurous internet chefs have created vegan hot chocolate recipes that are every bit as delicious (and in some cases, more) than the traditional variety. Today, I have elected to share a few of my favorites below:
Vegan Mexican Hot Chocolate: This slightly spicy hot chocolate is easy to make and so, so warming on those cold winter nights, with a kick of chili and cinnamon flavors!
Ingredients: 3 tablespoons cocoa powder
2 ½ c soy, rice, or almond milk
3 tablespoons white sugar (substitute cane sugar if you prefer)
A pinch to ¼ teaspoon of sea salt
½ teaspoon vanilla extract
A pinch of ground cinnamon
A pinch of cayenne pepper (optional)
Preparation: Combine all ingredients into a small saucepan and slowly bring to a simmer on medium heat. Stir the mixture with a wooden spoon until it reaches a smooth consistency. Remove the saucepan from the heat and whisk your hot cocoa until it becomes frothy, then serve hot. Makes 2 servings.
Raw Vegan "Hot" Chocolate: Who said hot chocolate has to be, well, hot? This intriguing recipe from Eating Vibrantly involves no heat, no saucepan and no simmering; all you need is a blender!
Ingredients: ½ c raw cashews, soaked in water 1-2 hours (you can also use unsoaked cashews to speed up the preparation)
3 medium medjool dates, pitted
3 teaspoons raw cacao powder
1 cup (250 mL) water
A pinch of vanilla bean powder
1 strawberry or other fruit for garnish
Preparation: The cashews provide the "milk" in this hot chocolate recipe, and you can soak them beforehand if you choose to extract the milky fixed oils. Place all your ingredients in a blender and blend on high until you create a smooth texture (1-2 minutes); your chocolate drink will actually begin to warm from the centrifugal action of the blender. Eating Vibrantly claims this recipe makes one serving (about 400mL), but you can stretch it to two servings by adding more water…should you feel like sharing! And that's it: pour your raw "hot" chocolate into a mug and garnish with fruit for a wonderfully decadent and totally vegan cocoa creation!
Ultimate Vegan Hot Chocolate: Even farther along the sliding scale of indulgence, we have the ultimate vegan hot chocolate, a melt-in-your-mouth blend of vegan dark chocolate and coconut milk spiked with Kahlua liqueur. Thick enough to be a drinkable dessert, this hot chocolate is so simple to make that you can experiment with endless variations on its basic ingredients, yet rich enough that you'll probably want to save it for the specialest of special occasions.
Ingredients: 50 g vegan dark chocolate (you can buy baking chocolate that has already been broken into chunks, or simply break up your favorite vegan dark chocolate bar for this step. I personally find that our Belgian Ultra Rich Discs, Vegan Baking Chocolate Chunks, or 65% vegan dark chocolate bar work swimmingly in this recipe!)
200 mL coconut milk (regular or reduced fat)
1.5 oz Kahlua liqueur (optional, of course)
1 cinnamon stick
Preparation: Place the dark chocolate, cinnamon stick, and coconut milk in a saucepan over low heat, stirring constantly until the chocolate has melted and the mixture has taken on a thick texture. Remove the cinnamon stick, add the shot of Kahlua if you wish, and serve. The cinnamon stick can hang out on the side of your cup as a garnish if you're feeling especially festive.
Variations: Omit the Kahlua for a hot chocolate kids can enjoy. You can also substitute rice or almond milk for a drink that is lighter in calories. Feeling flavorful? Try adding peppermint or orange baking extract to your hot chocolate: simply mix the milk substitute and chocolate as directed, then add the extract and briefly bring it back to a simmer before serving.
Quick and Easy Vegan Hot Chocolate: These fancy recipes are well and good, you may be saying, but I don't have time for anything so elaborate. Never fear! For those of you on the go, there's this ultra-simple hot cocoa recipe: five minutes, three ingredients, one scrumptious hot cocoa!
Ingredients: 3 cups nondairy milk (almond, rice, soy, oat milk, etc.)
¼ cup vegan chocolate chips (which we just so happen to sell)
1 tablespoon sugar (you can substitute stevia powder if you wish; just make sure to use only a pinch of this powerful sweetener!)
Preparation: Heat your nondairy milk in a saucepan on low heat and add the vegan chocolate chips, stirring until they melt. Add the sugar or stevia powder and stir until it has dissolved. Then take the mixture off the heat, add an ice cube to cool it off, and serve. For an extra touch of childhood nostalgia, top your five-minute hot chocolate with vegan marshmallows!
I've just scratched the surface of the vegan hot chocolate recipes out there; now, I'd love to hear from you about your favorite vegan hot chocolate recipes, variations, or discoveries you've made along the way to healthy, delicious cooking with our vegan dark chocolate.
Aloha no,
Makaira