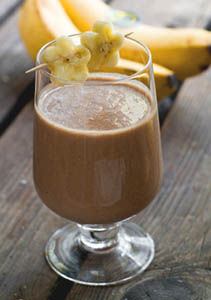 Good morning everyone, it's me, Makaira! I say "morning" (even though the internet is a timeless medium) because today we're going to talk about how to spice up breakfast with my favorite vegan chocolate smoothie recipes. Chocolate for breakfast, you may ask? Isn't that a trifle decadent? The truth is, unadulterated vegan dark chocolate provides your body with a shot of healthful antioxidants, vitamins, and heart-healthy unsaturated fats. Pure dark chocolate also contains the xanthine alkaloids theobromine and theophylline, as well as a touch of caffeine (though far less than in coffee), which can help you wake up in the morning.
Though dark chocolate is rich, unlike the typical American breakfast of coffee plus a sugary pastry–which provides a quick burst of energy followed by an energy crash–a vegan chocolate smoothie is packed with nutrients that will keep you motoring all day long. Plus, it's just about the most delicious way to start your day that I can think of!
You will need a blender for these recipes, but otherwise the possibilities for vegan chocolate smoothies are limited only by your imagination, time, and willingness to experiment. Read on for a selection of my favorite vegan chocolate smoothie recipes:
Vegan Chocolate Peanut Butter Banana Smoothie: Perfect for a post-workout meal, breakfast, or just a decadent snack, this vegan chocolate smoothie combines raw cacao powder with two of chocolate's traditional best buddies: peanut butter and bananas! Maple syrup provides an extra shot of sweetness, though of course you can always substitute natural agave or yacon syrup if you prefer.
Ingredients: 2 whole ripe bananas
3-4 tablespoons raw cacao powder (or regular cocoa powder)
¼ cup pure maple syrup (or alternative natural syrup)
¼ cup creamy peanut butter
3 cups vanilla-flavored nondairy milk (almond, rice, or coconut milk)
½ cup ice cubes
Preparation: Place the bananas, cacao powder, maple syrup and peanut butter in a blender and blend until partially mixed but not totally smooth. Add the nondairy milk and ice cubes, and blend until smooth. Garnish with dark chocolate curls if desired. What I love about this recipe is how customizable it is at every step. Allergic to peanuts? Use an alternative nut butter such as almond or cashew, or omit the nut butter entirely. Try adding a scoop of protein powder to make this a nourishing pre-exercise smoothie, or add an extra banana instead of ice for a vegan chocolate banana smoothie. If you're someone who likes dessert first, you can even substitute nondairy ice cream to make this a vegan chocolate shake. I can attest that coconut ice cream tastes amazing in this recipe!
Chocolate Cherry Banana Breakfast Smoothie: This vegan chocolate smoothie is the quickest to prepare, making it suitable to whip up before your morning commute on days when you don't have time for the usual coffee and a bagel. Of course, once you taste this scrumptious blend of chocolate and dark cherries, you may never go back to the usual either!
Ingredients: 3 small peeled bananas, frozen
2 cups frozen sweet dark cherries
2 cups chocolate nondairy milk (soy, almond, etc.)
Preparation: Simple as simple can be: place all the ingredients in a blender and purée on high until smooth, about 30 seconds. Pour into glasses and serve (makes about two servings).
Although the original recipe doesn't use cocoa powder, you could easily substitute a vanilla or plain nondairy milk and add vegan cocoa powder if you prefer. Can't get enough chocolate in your life? You could stack the cocoa content and create a thicker texture for this smoothie by adding our vegan Special Dark Chocolate Chunks or Belgian Ultra Rich Discs before blending.
Vegan Green Chocolate Smoothie: Yes, this vegan chocolate smoothie has spinach in it, but don't let that scare you off! Even if you had to be forced to eat your vegetables as a child, you'll love this vegan chocolate smoothie recipe: the double dose of dark chocolate and banana causes the veggie taste to disappear, making this drink a clever way to pack in an extra serving of vegetables without even noticing it.
Ingredients: 1 medium banana
1 can (about 15 ounces) light coconut milk
1 cup packed baby spinach
2 tablespoons chocolate syrup or dark chocolate baking chunks
1 cup ice
Preparation: Place all your ingredients in a blender and purée until smooth. Serve in a tall glass with a straw. According to the recipe, the smoothie will turn a light greenish brown color; so if your smoothie resembles mud, don't worry–it's supposed to, and it doesn't change the yummy taste one bit. With such a simple recipe, the possibility for experimentation is endless: try adding a couple pitted medjool dates for a sweeter smoothie, or eliminate the ice and add an additional 1½ cups of coconut or almond milk for a nuttier blend. You can also decrease the amount of spinach from 1 cup to a ½ cup if you're still getting used to veggies in smoothies.
Double Chocolate Chip Soy Milk Shake: Okay, so this last recipe isn't quite a smoothie, but it sounded so delicious I couldn't resist including it! Also, you can easily convert this recipe to a smoothie by substituting chocolate or vanilla soy milk for the soy ice cream in the ingredients list. The preparation is a bit more involved than with the smoothie recipes, but the creamy, chocolately results are worth it. A perfect vegan treat for summer!
Ingredients: ½ pint high-quality chocolate soy or nondairy ice cream (So Good Coconut ice cream or Soy Delicious brands work well)
1 cup soy or other nondairy milk
3 tablespoons dark chocolate chunks (such as our melt-in-your-mouth Belgian Ultra Rich Discs)
1 teaspoon ground cinnamon
½ cup ice
½ frozen banana (partially thawed to soften)
2 teaspoons peanut or almond butter
2 tablespoons sweetened dark cocoa powder
½ teaspoon sea salt
(Optional: try adding a pinch to ¼ teaspoon cayenne pepper to make it a Mexican chocolate shake!)
Preparation: Set your nondairy ice cream out to soften (about 5-10 minutes). Then place ¾ of the pint in your blender along with ¾ cup soy or other nondairy milk, 2 ice cubes, and the 2 teaspoons of nut butter and blend on medium high, shaking the blender gently. Stop and use a wooden spoon to mush down the nondairy ice cream as it floats to the top of the mixture. Blend until creamy. Add the remaining ¼ cup of nondairy milk, the frozen banana, cocoa powder, ice, dark chocolate chunks, cinnamon, and cayenne (if you choose). Blend on high till smooth, then add the remaining nondairy ice cream and blend again on low. This will add thickness and dimension to your chocolate shake. To thin the shake, just add more soy milk. For the classic diner presentation, pour your vegan chocolate shake into a tall frosted glass and serve with a straw and a long spoon. Garnish with cinnamon and cocoa powder.
Hot and cold drinks are one of the easiest ways to make use of vegan chocolate and cocoa powder, but the possibilities of our chocolate also extend to desserts and even main courses. Next time, I'll be taking a look at some of the more interesting and unexpected ways to use our vegan chocolate in the kitchen. Until then,
Aloha no,
Makaira