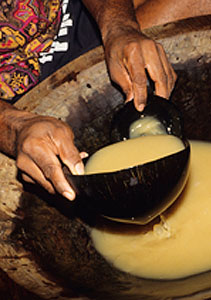 I just wanted to write about a little something that has been on my mind for the past few weeks. It seems to me like indigenous cultures have very different ideas and methods of using plants and medicines than people in many Western countries. For us here in Hawaii, as well as for people in Fiji, the Philippines, and other countries that have used kava for thousands of years, kava is undeniably linked to ceremony. Even when I drink kava outside of a ceremonial setting, I always think about the many amazing ceremonies that I have taken part in as a worship of this marvelous plant and the beautiful people around me. Therefore, even when I have a wonderful cup of kava in the evening on my own or with friends or family after a hard day of work, I think of this sacred plant which is blessing me with its wonderful healing powers.
On the other hand, the pharmaceutical companies that are part of Western medical systems have completely altered the ways in which we view plants and medicine.  Nearly all of the medicines that we use on an every day basis come from a sacred plant.  Aspirin comes from the bark of the beautiful willow tree. Morphine and the other medicines we use to relieve pain come from the charming poppy. But pharmaceutical companies pull the plant apart, remove only the element that they desire, and turn this in to a generic pill or liquid. This completely separates the medicine from the plant that it came from. Based on this, people use the medicine with a lack of respect. After all, it's just a pill that they take to automatically make them feel better, not a plant that is blessing them with the healing of nature.
Unfortunately, I feel like this disconnect from nature and plant medicines can also be seen in the way that many western people use herbal remedies. People think that if they just buy an herbal remedy and take it, it will make them feel better instantly. Rather than respecting a plant and working with it, they despserately look for one thing that will solve all of their problems.
Now, I know what I'm about to say might sound a little bit new-age-y or strange, but I think that these plants are more effective and more healing when we treat them with the respect they deserve. After all, the kava we drink came out of the ground and ceased its life process in order to help and to heal us, to let us relax, enjoy each other's company, rest well, and be happy.
I feel that this is what the kava wants to be able to do for us. Therefore, the next time you go to drink some kava, consider carefully the beautiful plant from which it came, a plant which contains so many compounds that heal your body and soul. If you can be thankful for the loving assistance of that plant, you may find that you will have a much stronger, more enjoyable experience when you use it. These plants are not just medicines, they are our allies and our teachers. Even if you don't have access to traditional kava ceremonies, treat every time you drink kava as a ceremony. I think you will be surprised as to how much more powerful and wonderful your experience will be!
Aloha no,
Makaira