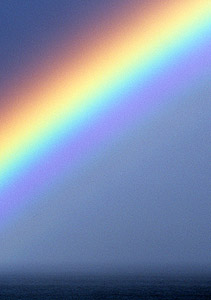 Aloha everyone!
I hope you are all having an enjoyable holiday season, and that those of you who live in colder climates are adapting to the chilly winter weather. Here in Hawaii, it's been a bit rainy, but even in the cooler months I usually find that if you wait just a little bit, the sun will come out sooner or later, and more often than not it will bring a rainbow along with it!
I know I've been writing a lot about news articles recently, so today I wanted to share a personal story with all of you. It's about my nephew, Kai. Kai just recently turned 17 and started his final year of high school. He's extremely bright and talented, and has been coming to visit and play here at Kona Kava Farm ever since he was a little boy. He often spends his summer vacations out here working in the fields with me, and he is hoping to attend a university program in sustainable and organic agriculture next fall.
I've always been incredibly proud of Kai. He always works hard and studies a great deal. However, ever since he was a little boy, he has experienced a certain amount of anxiety when it comes to school work. He often tells me that he experiences intense anxiety before school exams that can sometimes prevent him from sleeping or eating well for weeks at a time. He has also experienced a few panic attacks, which can be extremely upsetting, as anyone who has ever had one can tell you. His anxiety has definitely had a serious effect on his overall happiness and ability to enjoy life, and it seemed that as his school work became more advanced, his stress levels went up.
About a year ago, Kai's mother took him to the doctor to see if he could offer any assistance with this anxiety. The doctor prescribed Xanax, which seemed to help with the anxiety, but Kai reported that it made it harder for him to concentrate, and said that he always felt sleepy. His grades also started dropping. I did a little research and noticed that Xanax has a detrimental effect on memorization skills, meaning it was probably making it more difficult for Kai to study. I also know that Xanax is one of the most addictive prescription drugs, and I was concerned that this might prove a much larger issue in Kai's life than the anxiety itself.
So, the next time I saw Kai's mother, I suggested she try giving him a little bit of kava tea just before bed. Kai isn't completely new to 'awa – he's had it at family gatherings and ceremonies, of course, but his family had never considered it as a solution for his anxiety.
Kai came up to visit the farm this last weekend and I was able to have a long heart-to-heart talk with him. I am happy to report that he looks much more relaxed and well rested than when I last saw him. He says that drinking a small amount of kava just before bed helps him to sleep well, and that he feels well rested and energetic the next day. His grades have improved, and he no longer feels so anxious that he loses his appetite! He is no longer taking the Xanax, and overall seems much more excited and cheerful about his present and his future!
Of course, kava is not an FDA-approved substance, and should not be used as a substitute for medicine prescribed by a doctor. However, I wanted to share this story to let our readers know that kava can be very helpful in treating anxiety. Many people find that it has less negative side-effects than prescription anti-anxiety medication. If you or someone you love has been experiencing anxiety like my nephew, you may want to try kava. It may be just the thing to reduce stress and anxiety and to allow for healthy sleep and eating habits. For a young student, and indeed for all of us, these things are of vital importance, and will lead to greater overall health and balance.
Aloha no,
Makaira