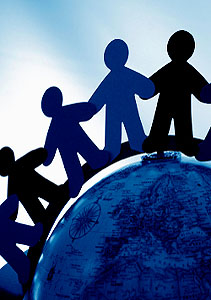 I know what you're all thinking—what the heck does this story have to do with kava kava? Truthfully, I may be stretching convention a bit by calling this "kava news", but it's such a quirky, fun story that I couldn't resist! More to the point, guess where this new UFO landing pad has just opened? Right across the street from Uncle Robert's Kava Bar in Kalapana on the Big Island of Hawaii!!
Ahem. Lest I sound too much like a giddy "New Ager", allow me to back up and explain exactly what the story is behind this remarkable headline. On June 27th, 2014, locals in this town in the Puna region of Hawaii held an official dedication ceremony to open the Hawaii Star Visitor Sanctuary to any and all extraterrestrials interested in visiting Earth. Unofficially known simply as a UFO landing pad, the site is an 80-foot wide natural lava pillow just across the street from our aforementioned kava bar. During the ceremony, official representatives of the reinstated Kingdom of Hawaii, including Robert Keliihoomalu (Uncle Robert) himself, announced their intention to establish the Star Visitor Sanctuary as internationally neutral ground where "star visitors" wanting to visit Earth will be welcome to land!
Now, I didn't know this, but there are actually two other such UFO landing pads on Earth—one in St. Paul, Alberta, built in 1967, and the other in Lake City, Pennsylvania, built in 1976. The one in Hawaii takes advantage of our nation's long history of political neutrality, as well as our right to sovereignty and self determination, which was officially acknowledged by the United States in 1993. In other words, it is the sovereign right of the Kingdom of Hawaii to welcome foreign visitors to neutral ground, including any curious visitors that might come from space!
Commenting on the ceremony, Garry Hoffeld, assistant to Robert Keliihoomalu, encouraged people to keep an open mind about the possibility of visitors from space: "It's potentially controversial—it's… funny to some, stupid to others. We're not crazy, we're open minded. Uncle Robert calls [extraterrestrials] our friends and brothers". Indeed, I couldn't help but recall our people's legend that the original Hawaiians descended to Earth from the stars in the constellation Na Huihui o Makali'i, or the Pleiades/Seven Sisters!
For those of you interested in learning more, I've posted the full half-hour dedication ceremony at Kalapana below this article. Though I couldn't tell for sure from the footage, I hope the ceremony involved pouring cleansing libations of kava kava over the landing pad! In any case, the video is worth watching if for no other reason than to see the beautiful shrine the people of Kalapana placed at the center of the Star Visitor Sanctuary. And what did the organizers choose as the symbol of peace and harmony with which to reach out to interstellar visitors? A gorgeously realized kava leaf!! I'm still so touched that this traditional symbol of community, harmony and solidarity made it into the sanctuary's centerpiece. If star visitors ever do descend to Earth—and I hope they do someday!—I'd love to offer them a bowl of kava along with the wishes of all Earth people for a harmonious and peaceful connection.
REFERENCES
1. UFO landing pad officially opens in the hope of attracting extraterrestrials to Earth". July 4th, 2014. Mirror UK. http://www.mirror.co.uk/news/weird-news/ufo-landing-pad-officially-opens-3810822.
2. Salla, Michael. "It's official: extraterrestrials can now land at Hawaii UFO Sanctuary". Exopolitics.org. June 30th, 2014. http://exopolitics.org/tag/hawaii/.