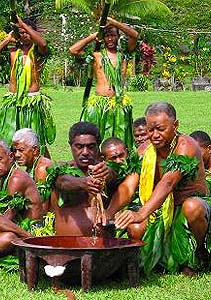 While this fun bit of information I'm about to share with you isn't necessarily directly related to kava kava and all of its wonders – it is about Kava culture and culturally speaking anything related to Kava in some way is definitely worth sharing! And Kava culture is expanding its horizons it seems, as it dabbles its loving fingers into the mainstream music scene.
Anyone who has indulged in Kava culture a little bit, or a lot, may be aware of the beautifully traditional Kava songs out of the Pacific Islands. These songs are quite relaxing and lovely to sit back and listen to while enjoying a cup of Kava. These songs are best classified as folk and are brimming with mythological lyrics, telling of the gods and deities that graced our planet with Piper methysticum, the beautiful plant that kava kava comes from.
But, it hasn't been until recently that Kava has eased its way into a more mainstream music scene outside of the Pacific Islands.
I would like to introduce "The Kava Kings", a ska and gypsy-inspired band out of Sydney, Australia's southern beaches.
Ska originated in Jamaica in the 1950's and developed into a fast and upbeat forerunner of reggae. Later into the 1960's ska was actually the most popular genre in Jamaica, and if you listen to a little bit of ska, you can certainly hear the laid back, at ease and happy vibe that Jamaica is known for [4]! Gypsy punk is an energetic combination of Romani music and punk rock [3]. So, there you have the eclectic foundations of The Kava Kings – certainly a concoction of sounds that can only allow for a good time – add some Kava drinking to that and the happy relaxation would be endless!
On their Facebook page, The Kava Kings classify themselves as "Gypsy Surf Rock" and have pictures and posts detailing their many and ongoing adventures around Australia while touring, promoting their band and enjoying Kava [2].
The Bellingen Shire – Courier Sun recently ran an article about The Kava Kings. The article outlines the details of the band members – Chris, Daniel, James and Tom – coming together in friendship, music and Kava drinking. All members spent their teenage years attending the same high school, although during different years. And in 2010, the members came together over Kava, and a mutual love for fun and upbeat music. They've since been touring throughout Sydney, Australia and up and down the east coast of Australia [1].
Their music is upbeat and energetic in a way that certainly would bring Kava lovers and other sorts of lively people together. Kava culture is all about love, fun and relaxation – and this band certainly seems to emanate those qualities.   If you check out their Facebook page it's full of lively pictures of the band members having a good time, posing while playing their tunes and just straight up enjoying life as it is meant to be enjoyed! You can check out their page for details about their upcoming tour dates – if you happen to be coasting through Australia and want to enjoy the evening with some fellow Kava enthusiasts.  Or, if you happen to be coasting through anywhere really, why not pack some Kava and check out the local Kava culture!
As far as I know The Kava Kings are probably kava kava's first début in the popular music scene. While The Kava Kings are fairly new, I love that they are spreading affection and appreciation for Kava, and hope that they meet with great success and fulfill all that they aspire toward!
Aloha no,
Makaira
1. "The Kava Kings". The Bellingen Shire – Courier Sun: May 27, 2014. Online: http://www.bellingencourier.com.au/story/2310210/the-kava-kings/.
2. "The Kava Kings". Facebook: https://www.facebook.com/thekavakings
3. Wikipedia. "Gypsy Punk". Last Updated, May 17, 2014: http://en.wikipedia.org/wiki/Gypsy_punk
4. Wikipedia. "Ska". Last Updated, June 02, 2014: http://en.wikipedia.org/wiki/Ska