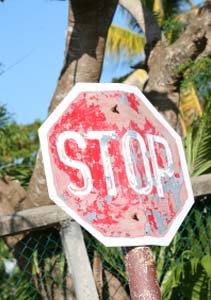 Aloha everyone!
Makaira here! I hope you're all enjoying some pleasant fall weather, and that those of you who have headed back for another year of school are settling in well after a relaxing summer vacation.
I've been noticing a rather disturbing trend in recent mentions of kava in the news, and decided that a blog post on the topic was in order. With the increasing popularity of kava across the globe, we are also seeing more and more cases of individuals getting pulled over for driving erratically while extremely intoxicated on kava.
There were a few court cases in California some ten years ago surrounding people who were pulled over after drinking large quantities of kava. In one such case, a man in San Mateo, California, was pulled over, failed a field sobriety test, and said that he had taken 23 (!) cups of kava before driving. The charges against him were dropped when it was determined that state DUI laws did not definitively include kava tea.
In most states (including here in Hawaii) the situation is similar – DUI laws do not usually indicate kava as an intoxicating substance under the influence of which citizens are forbidden to drive. And, fortunately, although I have been seeing at least one article a month regarding an individual being pulled over for driving erratically under the influence of kava, no one seems to have been killed or gotten into a serious accident as of yet.
However, as kava increases in popularity, and as it becomes more and more common for people to use it as a substitute for alcohol, cases of people trying to drive on high quantities of kava are going to increase. It is essential to remember that kava is sedating, and that it does slow down reaction time. Furthermore, those wonderful muscle relaxing effects of kava also tend to decrease physical coordination. I always drink kava after I'm done working and have come home for the night, and would never drive on anything but the smallest amount – I know that my awareness and coordination will not be sufficient to safely operate a motor vehicle. After all, once I'm wrapped in the warm embrace of this beautiful plant, the last thing I want to do is attempt something stressful and potentially dangerous like piloting several tons of metal moving at incredibly high speeds. Furthermore, I don't know a single person in my family or circle of friends who would ever even consider driving on any significant quantity kava.
So, the reason I'm writing this article is to ask anyone who reads it to be very careful when it comes to kava and driving. I don't want to hear about anyone coming to harm when working with this plant – kava is a healer, after all, and as long as it is treated with respect, it will only bring benefit to your life. Furthermore, as a community of kava users, we have a responsibility to ensure that this plant stays safe and legal for years to come. If kava becomes linked to automobile accidents, injuries, or, god forbid, deaths, there is a much greater chance that it will be regulated, and that the thousands of people who benefit daily from kava will no longer be able to access this medicine.
Next time you drink kava, take the same precautions that you would with alcohol – be sure that you don't have to drive anytime too soon afterwards if you want to drink more than just a little, set up a designated driver system if necessary, and call a cab if you find yourself too intoxicated to drive home. Please be safe, and please respect this sacred plant that we may all continue to benefit from its healing powers for years to come!
Aloha no,
Makaira