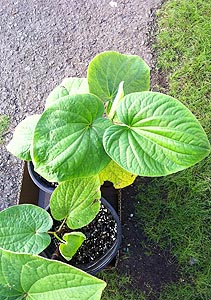 Misha asked: Hi, I have just learned about kava tonight and I am really interested in taking it. I'm 21 and have heard and seen just too many negatives about alcohol. So I'm lookin' to try something else. I was wondering what I should buy (powder, chai mix, etc.) to start with, and which would last me the longest because I don't want to keep re-buying it every week. The 1 pound bag of powder at 2-4 tbs per cup of juice sounds like it will last many nights. What do you think?
Makaira says: This is a difficult question to answer, since every single person and body can be so different from another, and every body will react differently to different kava products. For me, when there is no fresh root available, my favorite combination is 6 tablespoons (I can't advise using this much, though, due to the new FDA regulations) mixed with a pea-sized amount of kavalactone paste. This gives my drink the extra kick it needs, and both the freshly powdered root and the kavalactone paste last me a long time.
But you need to see what works best for you, and which taste you prefer. Kava's effects last about 45 minutes, but, you are able to take a "booster" drink in 45 minutes which will continue your pleasant and relaxed feelings throughout the ceremony (or evening). Hope this helps!
Aloha no,
Makaira