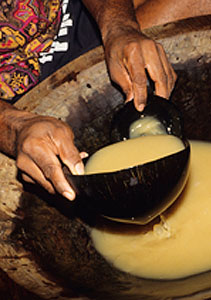 Edward asked: I tried some Kava powdered root yesterday, and followed the instructions – 2 tablespoons with 8 oz of water. I put it in the blender for 5 minutes and then pressed it through a coffee filter. The end result was a tea-like liquid. After drinking it, I felt no noticeable effect. Should I have left the root to soak in the liquid for 30 minutes? Should I have thoroughly squeezed the juices out of the root? Should I have not filtered it and just drank the whole concoction? Any help would be appreciated.
Makaira says: Every person reacts differently to Kava root, and therefore, it's up to you to do personal experimentation to find out what works best for you. We are only personally legally allowed to offer recipes based on the new FDA regulations, and 2 tablespoons of root is within the FDA recommendations. We have heard many reports of others taking 4 tablespoons or more per serving, but we cannot recommend, endorse, or verify those reports.
Just as some people are more sensitive and some are less sensitive to things they put into their bodies, it is no different for herbal supplements. You made your extraction correctly, and yes, most filter out the root (we don't), but you didn't say if you added any fats (such as coconut milk), which draws the kavalactones out of the root. We always add both a juice, such as pineapple or mango, as well as a fat, such as coconut milk or soy lecithin to help with the extraction process.
A number of our favorite recipes for you to try are on our site!
Hope this helps!
Aloha no,
Makaira